A  B  C  D  E  F  G  H  I  J  K  L  M  N  O  P  Q  R  S  T  U  V  W  X  Y  Z
​
Alpaca
Considered a Noble Fiber, made from the hair of the alpaca of South America, prized for its silky, long staple fiber.
Anorak
A style of parka which is pulled over the head, rather than having a full opening in front. Associated with outdoor sports.
Aran
Style of densely patterned vertically paneled, ornately cabled sweaters made of heavy undyed wool yarn. Identified with the folkways of the Aran Islands of Ireland.
Argyle
Traditional pattern used in knitwear like a plaid but skewed on the diagonal to form a diamond pattern, always a minimum of three colors.
Ascot
Neckwear that is a cross between a necktie and neck kerchief. Has 2 wide unlined ends both fuller and less constructed than a tie, but narrowed, unlike a neck kerchief, usually stitched down at the center
Awning Stripes
Huge vertical balanced stripes, that look like the material used for awnings. Never used to describe shirting stripes.
Go to top
​
Balanced Jacket
In bespoke or made-to-measure tailoring, a balanced jacket is one where the front and back lengths are slightly adjusted to compensate for the client's figure and posture.
Balanced Stripe
A symmetrical stripe, indicating that the background and stripe are equal in width. Usually refers to shirting. Bengal stripes are an example.
Banded Collar
A collar that does not fold over or form points. In the days of detachable collars, the banded collar was the shirt's basic style, and different collars could be buttoned on and off to change the style of the shirts.
BCBG Bon Chic, Bon Genre.
French slang for well dressed and well born.
Beaded Stripe
A suiting fabric, it is a type of broken stripe that appears to be a solid chalk stripe when viewed from a distance, close up is a series of aligned dots which make up the stripe.
Bedford Cord
A sturdy plain fabric that is "corded" or ridged, almost always vertically, but does not have waled like corduroy. Popular for country pursuits like hunting, shooting, and riding.
Bengal Stripes
A two color stripe where the background and the color stripes are of equal width. Refers to shirting fabrics.Broader than a pencil stripe but narrower than a candy stripe. Also called a balanced stripe.
Besom Pockets
A slit pocket distinguished by welted trim and no covering flap. When the welting appears on both the top and bottom of the slit, the pocket is called a double-besom.
Bespoke
A garment that is custom-made rather than customized. An individual pattern is created specifically according to the clients measurements and shape, then sewn from the fabric he chooses. (hence "bespoke" to indicate the fabric has been spoken for), and fitted on his body. Different from made-to-measure.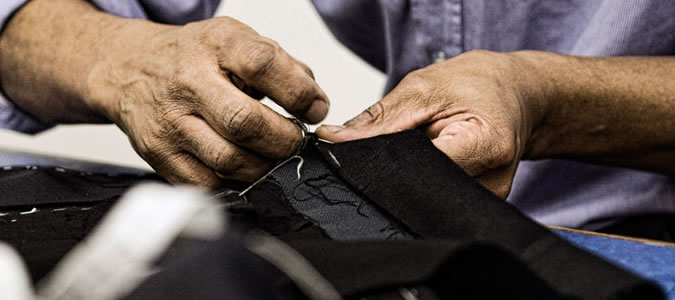 Biella
A region in northern Italy famous for wool spinners and mills. Famous names coming from the Biella region are Zegna Baruffa, Loro Piana, Luigi Botto, and many others.
Bird's-eye
Traditional woven pattern, usually done in wool for suiting, or in silk for neckwear. A small dot pattern, that looks like a "bird's eye".
Black Tie
A designation for a dress code reserved for formal occasions, indicating that the proper attire is a black tuxedo and bow tie.
Black Watch
One of the best known and most popular tartan plaids, consisting of dark green, navy blue, and black. Developed for the Royal Highland Regiment of Scotland.
Blazer
A jacket, typically in navy blue with brass or gold-plated buttons, may be either single or double breasted. Can also be striped in bold stripes, often with 3 open patch pockets. This is an often searched-for term in the menswear style glossary.
Blind Buttonholes
Non-functioning buttonholes typically used on the sleeve cuffs of less expensive ready-to-wear jackets either sportcoats or suit coats.
Blouson
A short waist-length jacket or shirt that is loose and unfitted through the torso, with the fabric gathered into and elasticized waistband. Also referred to as a bomber style jacket.
Bootcut
A by-product of the acid house rise, shapely denim cut loosely at the hem to accommodate a boot.The style is flared/loose all the way down, unlike women's jeans, which are often tapered at the knee.
Boutonniere
French word refers to a flower worn in the buttonhole of the jacket lapel.
Box Pleat
A pleat made from making a defined symmetrical fold of material that is then flattened so that its top has a square appearance. In menswear, used most often in the back of jackets and shirts beneath a yoke.
Braces
British term for suspenders. This is the proper term used in the menswear industry.
Broadcloth
Shirting fabric in a plain weave that is not a balanced weave, so that it has a very slight horizontal rib.
Brogue
A hardy, low-heeled shoe or boot characterized by decorative punching (or 'brogueing') of the leather and uppers. The shoe's resiliency is an upshot of its highland heritage, where the now ornamental perforations were used to let water escape.
Found most popularly in tan leather and worn with dark denim, brogues sport either a decorative (wingtip) or plain toe. The not-for-night-time style (especially where black tie is concerned) can come in either an Oxford or Derby silhouette.
Broken Stripe
A pattern used for suiting, that appears as a solid chalk-like stripe from a slight distance, but, upon closer inspection, resembles a series of aligned dashes.
Buffalo plaid or buffalo check
A symmetrical red and black plaid or check, forming solid red squares, solid black squares, and squares that are half red and half black. Frequently used for hunting jackets, over shirts, and flannel shirts.
Button-down
Type of dress shirt collar that buttons to the shirt body at the collar points. The classic button-down shirt is roomier through the body than other dress shirts.
Button Stance
placement of buttons on a jacket, a 4 button suit jacket, where the top button might close a few inches below the clavicle and only show a small part of the necktie, would be said to have a high button stance.
Go to top
​
Cable Knit
Refers to a pattern commonly used in men's jumpers and knitted accessories in which raised 'cables' appear to twist around one another. Fishermen are found at the root of this utilitarian style; the permuting stitches are considered to produce a far more durable and insulating garment. The method lends itself to creating textured, layered looks popular in the autumn/winter seasons. Currently trending: cable knits on chunky roll necks.
Cardigan
A front fastening (with ties, buttons or zips), machine or hand knitted sweater, which has an open front.
Not to be confused with the Cardigan Welsh Corgi, a breed of dog. Or pullover sweater for that matter.
Chalk Stripe
Vertical lines on a suit fabric, designed to look like the color of tailor's chalk. The lines are subtle and hazy compared to the crisp, distinct lines of pinstripe.
Chelsea Boot
Men's Chelsea BootsA short, tight fitting boot identifiable by the elastic siding that covers the ankle. Originally designed as a riding boot (known as jodhpur or paddock boots), the silhouette was a hallmark of the 1960s mod and continues to have rock 'n' roll connotations today.
Chino (Cloth)
A twill fabric generally made of cotton or a cotton blend. Most commonly used to construct trousers, which are widely known as 'chinos' (can also be called 'khakis'). Chinos gained popularity as a summer uniform of the armed forces and have since gone on to become civilian wear. The trousers have become a staple within men's fashion and should be considered an essential part of a modern capsule wardrobe. They come available in a wide variety of neutral and bold colors, as well as statement prints and patterns.
Chukka Boot
Ankle boots with two or three high lacings to hold them together. Customarily made from suede or calfskin, the chukka boot has also been found in adaptations from dressier black leather to exotic crocodile skin.
Collars
Unlike lapels or revers, shirt collars are constructed from a separate fabric. The spread of the collar refers to the distance between the two points of a shirt collar. The stand is the band, often on the widest part, that supports the collar. The corners of the collar are known as the points. This is where the most variation applies.
Collar stiffeners
Also known as bones, these are rigid strips inserted to the underside of the collar to prevent the points from curling up.
Corduroy
A cotton fabric composed of twisted fibers that, when woven, lie parallel to each other. This helps to form the fabric's distinct 'cord' pattern, which runs either horizontally or vertically. The width of the cord is known as the size of the 'wale'. A low count (5 or 6-wale) means the individual cords are much thicker, and this type of corduroy is more often used for upholstery. High wale corduroy (16+), often referred to as 'needlecord', is the opposite and often used for clothing, such as men's trousers, shirts and jackets. The individual cords are much finer and this helps to produce a more velvety appearance, with a similar soft feel.
Crew Neck
A foremost garment of function, the rounded, no collar, close-fitting, hemmed neckline, which sits symmetrically at the base of the neck, is the generic undershirt we're all familiar with.
Cummerbund
A component of black tie dress. The cummerbund is a broad, pleated waistband worn with single-breasted dinner jackets. The word cummerbund comes from the Persian kamar (waist) + band (band).
Cutaway Collar
A collar whose points are pulled back to the side to allow full view of the necktie knot. This is ideal for wide and prominent neckwear that requires an unimpeded presentation.
Go to top
​
Daks Strap / Side Adjuster / Tabbed Waistband Trousers
Adjustable straps on the side of trousers used to tighten or loosen the fit; predominantly found on trousers without belt loops.
Denim
A rugged cotton twill textile fabric with its dyeing divided into two categories: indigo dyeing and sulphur dyeing. Denim is traditionally colored blue with indigo dye to make 'blue jeans' – a staple of traditional American work wear that rose to become a capsule wardrobe necessity due to brands such as Levi's.
Desert Boots
Similar to a chukka boot but looser at the ankle with a crepe sole.
Dinner Jacket
Etiquette believes 'dinner jacket' to be formally correct over 'tuxedo', although the terms are often interchanged by the unaware. Defined by the satin facings on the lapels mirrored on the outer seams of the dinner suit trousers.
Dobby
Refers to the dobby attachment on a weaving machine, or fabric constructed with this attachment. Fabric made up of a decorative weave, usually characterized by small geometric or dot designs. Dobby fabrics are perfect for dress shirts as they are generally fine and flat.
Double-breasted
A suit or blazer jacket with wide, overlapping front flaps and two parallel columns of buttons.
More often than not, the first column is for ornamentation, the second is for fastening the jacket. The hidden buttons are known as jiggers. The fastening method is acknowledged using a number-on-number terminology. The first number is the total number of front buttons; the second is the number of fastening buttons below the lapels. Popular double-breasted variations are 6-on-2 and 6-on-1.
Dress Codes
Dress codes are occasionally required at upscale nightclubs, but are most certainly not 'optional' at events –if the invitation mentions a dress code. If the invitation says Black Tie, it's a sartorial expectancy to get it right; and it's a sartorial necessity to get it right first time. Don't skip following these directions.
Drop Crotch (Justin Bieber & Kanye West)
An exaggerated low rise applied to skinny jeans. Imagine baggy trousers that appear to be hanging off the person, but then they abruptly taper to a 'skinny jean' fit at the knee, and finish to the ankle.
Trust me, DO NOT WEAR THIS TROUSER. Ever.
Go to top
​
End-on-End
A shirting fabric where a colored yarn is woven in one direction and white yarn is woven in the other to produce a textured effect
English Spread Collar
A wider spread than the Windsor Spread Collar with longer points.
English Tab Collar
The tab collar holds the tie perfectly in place using a snap or button that brings the collar points closer together, creating an always neat appearance.
Epaulet (Epaulette)
French for "little shoulder", epaulettes are bands of fabric, often attached with a button, that adorn the shoulders of a jacket or coat. They were originally used as insignia or rank by the military and other organizations.
Espadrille
Casual, canvas or cotton fabric shoes with a flexible sole made of jute rope. A modern twist on this shoe is the infamous TOMS.
European Straight Collar
An edge stitched straight collar for a slightly more modern look. Click here for a visual comparison of Dress Shirt collars.
Eyelet Collar
Reminiscent of the Gatsby years, the eyelet collar allows for the use of a collar pin to hold the points in place.
Go to top
​
Fair Isle
The Fair Isle Pattern includes intricate, highly colored knits, often stitched in bands, seen on jumpers, cardigans and more recently, accessories. The design takes its name from the Fair Isle, a tiny island in the north of Scotland where the practice originated.
Fedora
Classic hat style traditionally made of soft felt, however straw and twill fabrics can also be used. The hat is creased lengthwise down the crown and pinched in the front on both sides. For added interest some fedoras include small feathers which are inserted in the band around the crown.
Field Jacket
Of military origin, the Paul Fredrick field jacket is characterized by large lower bellowed pockets and two breast pockets.
Fully Fashioned
A fully fashioned knit is an indication of a better quality. Compared to a cut-and-sewn knit where the separate pieces are sewn together, fully fashioned is a method of knitting a garment in which the complete unit is shaped and knit on the machine as it is formed. A fully fashioned knit is characterized by fashion marks around the armhole (shoulder) and neckline. The portions of a garment are shaped by increasing or decreasing the number of loops in the width of the fabric, such a narrowing and widening produces the shape of the garment. This results in an overall better fit.
Go to top
​
Gabardine
A tightly woven combed yarn characterized by vertical twill lines created by using more threads in the warp than weft.
Gauge
A unit of measure abbreviated as GG. Expressed by the number of needles of a knitting machine in a 1″-1.5″ area in the production of a knit garment or fabric. As a general rule, the higher the gauge, the finer the fabric, whereas the lower the gauge, the bulkier the knit. Commonly used gauges range from 9GG-16GG.
Gingham
A plain woven fabric typically of a checked pattern in white and another color. Usually made of cotton, gingham is associated with check, plaid or stripe patterns.
Glen Plaid
A fabric featuring a design of small and large woven checks.
Grosgrain
A type of fabric characterized by its ribbed appearance. It is most often used to refer to ribbon.
Guabello®
Distinguished Italian Mill. The finest materials, refined finishing techniques, Lanificio Gaubello's® over 150 years of experience give their fabric a unique and exceptional quality. Singular comfort. Remarkable softness. Quite possibly the finest wool in the world.
Go to top
​
Half Canvas Construction
The inner canvas layer of the suit that gives it shape, structure, and strength. While you can't see it, this all important part not only shapes the suit from the start, but also has a memory for your shape, giving you a better fit. This feature really does separate one suit from another.
Half-Lining
A half lined jacket is lined on the top half and sleeve, but the bottom half is not lined and the seams are taped for a clean finish. Half lined is usually done on jackets with lightweight fabric, so the lining doesn't add weight to the jacket.
Herringbone
A variation on a twill weave fabric, in which the twill is reversed, or broken at regular intervals, producing a distinctive V pattern resembling the skeleton of a herring fish.
Hidden Button-down Collar
Similar in appearance to the straight collar, buttons hidden underneath the points hold the collar in place.
High Twist
Fabric with the sense of cool touch and superb surface by using high twist yarn; good drape, excellent elasticity.Unparalleled drape and wrinkle resistance.
Houndstooth
A fabric with distinctive broken checks that resembles the jagged back teeth of a hound. This staple pattern, once popular with hunting clothing, is often found in shirts, sportcoats, suits and trousers.
Go to top
​
Imperial 100's cotton broadcloth
A premium shirting fabric made with two-ply threads (two individual threads are twisted together) which make it durable, soft, and lustrous.
Interlock
Knitted with closely interlocking stitches, this fabric maintains an exceptionally smooth hand, good drape and provides a little extra stretch for increased comfort.
Go to top
​
Jacquard
A fabric with a design woven into it. The word jacquard comes from the nineteenth-century French inventor of the special loom this elaborate fabric is woven on, Joseph Marie Jacquard. The jacquard attachment allows for any pattern, no matter how large, small or intricate to be woven in a fabric.
Jersey
Jersey was first made off the English coast and used for fisherman's clothing. Today, it is commonly found in t-shirts and is very resilient with fine draping qualities and crease-resistance. Jersey wears and washes well.
Go to top
​
Keyhole Buttonhole
Characterized by a round hole at the end of the slit on a sportcoat or jacket to accommodate all types of buttons without distorting the fabric. It gives the hole an old school skeleton key shape.
Go to top
​
Lambswool
A soft, smooth, resilient wool yarn from the first shearing of a sheep younger than eight months old. Fine grade wool.
Lapel
The turned-back front section of a jacket or coat that connects to the collar and forms a "V" where the jacket or coat closes. Examples include Peak, Notch, and Shawl.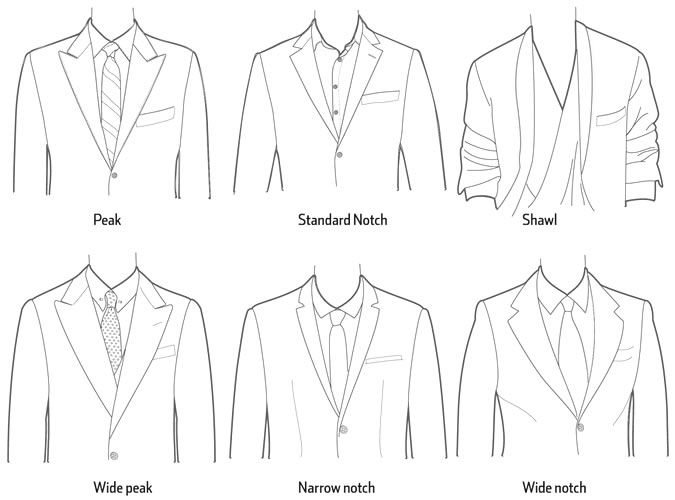 Leather
A material created through the tanning of the skin or hide of an animal. There are many different finishes which can be used including sueding, glazing, embossing, etc.
Linen
A natural fiber produced from the stem of the flax plant. Stronger, stiffer, and more lustrous than cotton, it yields cool absorbent fabrics that wrinkle easily. An easy and ideal summertime fabric with its breathable qualities.
Lining
Jackets can be fully lined or half lined. A fully lined jacket is lined on the entire inside so no seams show. A half lined jacket is lined on the top half and sleeve, but the bottom half is not lined and the seams are taped for a clean finish. Half lined is usually done on jackets with lightweight fabric, so the lining doesn't add weight to the jacket.
Loafer
Loafers are low, step-in shoes with no shoelaces or buckles, often made of leather or suede. The loafer is a classic style with a broad flat heel. Variations would include the penny loafer and tassel loafer.
Long Staple Cotton
Cotton whose fibers are over 1 1/8 inches long. Longer staples cottons create increased durability and hand (how pleasing the fabric feels) of the garment because they can be spun into finer threads than shorter lengths of cotton.
Luxury 140's Cotton Broadcloth
A very luxurious yarn, the higher thread count and resulting closeness of weave gives it a superior hand and remarkable luster.
Luxury 200's Cotton Broadcloth
Woven from some of the finest cottons in the world, our Luxury 200's Two-Ply Cotton offers an extremely silky touch and incredibly fine patterns.
GO to top
​
Madras
A bold plaid plain-weave fabric. This lightweight fabric was originally hand woven in Madras, India from cotton yarns dyed with native vegetable colorings.
Mercerized Cotton
A special kind of cotton yarn that is more lustrous than conventional cotton. It is also stronger, takes dye easily, makes the yarn more resistant to mildew and reduces lint. Mercerized yarn stays shiny through washing and gives a nice, somewhat fancier look to finished items. Mercerization is named for John Mercer, who developed the process and received a patent for his work in 1851.
Merino Wool
A better-quality wool yarn made from the fleece of merino sheep. Merino sheep are said to have the finest and softest wool of any sheep.
Mock Neck
A knit pullover finished at the neckline with a short, fitted knit band that does not fold over. An abbreviated version of the turtleneck. Don't wear this style or a full turtleneck unless you're the next Steve Jobs. Seriously, don't.
Modal
Fiber made by spinning reconstituted cellulose from beech trees. Textiles made from Modal have soft, smooth surfaces are water-absorbent and resistant to shrinkage and fading.
Moleskin
A heavy cotton fabric, woven and then sheared to create a short soft pile on one side. Well-known for its buttery-soft, almost suede-like hand, moleskin cotton is also long-wearing and substantial.
Monk Strap
A casual or dress shoe with a single or double strap closure, usually with an adjustable buckle.
Go to top
​
Nested Suit
A suit in which jacket and trousers are sold together. The nested suit also sometimes includes a vest. Compare to Suit Separates in which jacket and trousers are sold separately.
Nap
The raised surfaces found projecting from a fabric; produced intentionally (by brushing) or naturally (during weaving). Fabrics such as flannel and saxony wool are often napped. The soft piles are created to provide extra warmth and comfort in the garment.
Non-Iron Cotton
Enjoy the comfort of cotton without the wrinkles for a clean, crisp presentation. Garments which are 'non-iron' have seams which are taped to prevent puckering. The completed garment is [then] treated with an ammonia process, pressed and baked to make the entire garment wrinkle free. Paul Fredrick dress shirts are machine washable and should not be dry cleaned.
Notch Lapel
A collar that has a triangular notch where the lapel meets the collar. This is traditional on single-breasted suits, and is used on most Paul Fredrick suit jackets, blazers, and sport coats.
Go to top
​
Ombre Plaid
A plaid in which the colors transition by way of fading.
Ottoman
Long staple plain weave with a horizontal cord or ribbed effect.
Oxford
A weave in which the warp (horizontal) has two fine yarns paired together and one heavier softly-spun weft (vertical) yarn, which gives the fabric a subtle basket-weave look and a lustrous finish. Well known for men's shirts, it is also used for summer jackets and sportswear. Originated by a Scottish mill, oxford was one of their four shirting fabrics named after famous universities, along with Harvard, Yale and Cambridge.
Go to top
​
Paisley
A swirled tear-drop shape pattern commonly found in neckties, pocket squares, and jacket lining options.
Panama
A Panama hat is a traditional brimmed hat that is made from the plaited leaves of the panama-hat palm (Carludovica palmata). Despite the name, genuine Panama hats are made in Ecuador, not Panama.
Parquet
A diagonal twill dobby woven in a pattern of squares resembling a parquet floor.
Patch Pocket
A flat, outside pocket stitched onto a garment with a straight hem opening. It is traditionally a more casual jacket option than other pocket styles.
Patchwork
A fabric design consisting of squares, or patches, of varying pattern or color.
Peak Lapel
A lapel in which a v-shaped seam is formed where the collar meets it. This is the most formal and is found on Paul Fredrick double-breasted jackets and some single-breasted styles.
Pick Stitching
A large stitch that simulates a hand stitch. The pick stitch is done around the lapel and pockets of a jacket.
Pima Cotton
A high-quality, very strong, extra-long staple cotton named after the Pima Native Americans, who first cultivated the plant in Arizona in the early 1900s. Pima cotton is considered one of the more superior blends of cotton.
Pinpoint Oxford
A finer yarn and tighter weave than oxford. A weave in which the warp (horizontal) has two fine yarns paired together and one heavier softly-spun weft (vertical) yarn, which gives the fabric a subtle basket-weave look and a lustrous finish.
Pinstripe
A pattern of very thin, crisp lines, usually in gray or white, evenly woven into fabric. The pinstripe suit has become associated with conservative business attire, but is easily updated for a more refreshing look.
Piping
A narrow fold of fabric in a seam to provide decorative embellishment. Usually seen in sport coats, suit jackets, and blazers in a contrasting color.
Pique
A durable woven or knit fabric that is characterized by an allover textured pattern of raised parallel cords or fine ribbing. Generally cotton yarn, the most popular patterns are birds-eye, diamond, waffle and honeycomb.
Placket
A strip of fabric running along a closure, used to provide support for fasteners such as buttons, snaps, or a zipper. Almost always used to facilitate putting on or taking off of a garment, but are sometimes used as a design element as well. Paul Fredrick uses three different types of plackets: Top Center, Double Press Turn back and Covered.
Plaid
A fabric with a pattern of bars and stripes that cross each other at right angles. Plaid fabrics may be printed or woven and come in a variety of colors.
Plain Weave
A basic weave, utilizing a simple alternate interlacing of length and crosswise yarns over and under, alternately. Any type of yarn and fiber can be manufactured into a plain weave fabric.
Pleats
A fold of fabric made by doubling material over on itself. Pleating provides more volume to a garment and is often used as a decorative feature. Different types of pleats can be seen on Paul Fredrick trousers and shirts.
Poplin
A plain-weave, tightly woven, durable fabric with a crosswise rib, creating a slight ridge effect.
Go to top
​
​
Raw Denim
Essentially unwashed and untreated after the dyeing process. Dry denim is at its very best in a raw state.
Due to its unfinished condition, over time knees, thighs, ankles and crotch will develop organic distress and fading. To facilitate natural abrasion, many wearers often abstain from washing their jeans for more than six months: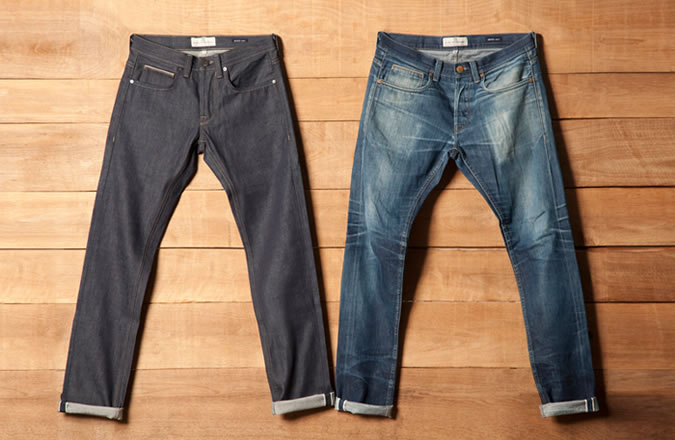 Raw Edge
This describes the unsewn edge of a piece of fabric. Commonly seen on t-shirts at the neck, arms and hem. The technique produces a raw, rolled effect, finishing with an unstructured look.
Rise
The distance from the crotch to the top of the waistband in jeans and trousers. Common options include high, medium and low rise.
Round Collar
Also known as the penny or club collar, the origins of this style can be found in the dress code of Eton College throughout the 1800s. The round points create a contrast with the sharp lines but are still looked upon unfavorably in a formal setting. It's generally held that a man should avoid wearing a collar too similar to his face shape as well. This is similar to the modern spread collar offered through us.
Go to top
​
Sandwashed Silk
A process by which the silk is treated to give it an even softer surface, almost suede-like in feel. This fabric is incredibly soft, has a matte surface and drapes beautifully.
Satin Weave
A basic weave, characterized by long floats of yarn on the face of the fabric. The yarns are interlaced in such a manner that there is no definite, visible pattern of interlacing and, in this manner, a smooth and somewhat shiny surface effect is achieved.
Seersucker
A mid to lightweight fabric, often striped, used to make clothing for spring and summer wear.
A puckered or crinkled effect is created by releasing the tension at intervals during weaving.
This permanent effect holds the cloth away from the skin and makes it cool to wear.
Selvedge Denim
Reinforced fabric weave, typically found in unwashed or raw denim, to form a clean natural edge that does not unravel. Traditionally finished with a contrast weft, which is most commonly red.Many people confuse selvedge denim with raw denim. Raw denim characterizes the wash while selvedge refers to the outside edge of the fabric. Selvedge denim carries a self-edge that will never fray and is therefore usually higher in quality and more expensive than other denims.
Sharkskin
Smooth wool in a twill weave that has a characteristic alternating black-and-white pattern for a grayed effect. The surface is said to resemble a skin of a shark. Commonly found in suiting.
Shawl Collar
A one-piece collar which is turned down to form a continuous line around the back of the neck to the front.
Shearling
A desired pelt for winter coats, hats and gloves. Sheep or lambskin tanned with the wool attached. The wool lined hide offers a rugged appeal and ultimate warmth. Commonly associated with the shearling collar, which is often found on leather jackets.
Shirt Jacket
Jacket designed in the style of a shirt with a button-front closure, shirt collar and often a two-button adjustable cuff.
Single-Breasted
In contrast to double-breasted, this cut is characterized a narrow overlap fastened with a single row of buttons; always left over right. The narrow line is accentuated by the use of one to four buttons (although a number in-between is far more common).
The fastening of all buttons available (on anything above a one button coat, jacket or similar garment) is given a wide berth. To avoid mis-buttoning, follow this concise guide: On a two-button jacket, make use only of the top. Where three are on display, use either the middle (only) or top two. In the unlikely case you're faced with four, leave just the bottom undone.
Soft Coat Construction
Softer findings used inside for construction that drapes rather than traditional firm construction which hugs the body. Counterintuitively, a less constructed sportcoat actually takes longer to tailor. Exposed seams require precision inside and out.
Spectator
These stylish, retro shoes are known for their two-tone color, similar to saddle shoes. Most spectators are wingtips, however they can also have cap toe or even loafer styling. They are predominantly seen in black and white but other color combinations update this classic style.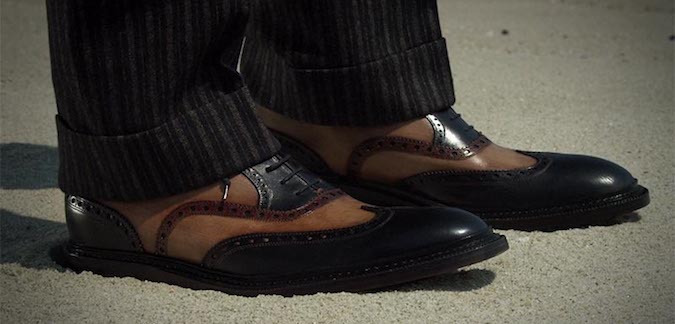 Sportcoat
Of the same cut as a suit jacket, a sportcoat is more casual and designed to be worn on its own, not as part of a suit. This, as well as Blazer, is often searched for in the menswear style glossary.
Spread Collar
This style gives prominence to the tie knot.
Dictated by the distance between each point (often between 3 and 6 inches). The larger spreads are often referred to as a Windsor collar, named after the Duke of Windsor.
Straight Collar
The generic collar, measuring 2 to 3 inches between the points. Where the collar is tabbed or requires a barbell, the points often measure as a straight collar.
Super Wools
The story of this thread is the numbering system used to describe the new breed of super-lightweight, high-twist wools. Pioneered by Italian mills, these fabrics are made using high-tech machines that spin wool lighter and finer than it's ever been spun before. The various grades of cloth are referred to as Super 100s, Super 120s, Super 150s and so on, up to Super 200s. Make Super 100s and Super 120s the mainstay of your wardrobe. They are durable, resilient, and today's fabrics are superb. Treat the Super 150s and Super 180s as caviar, wonderful, but not to be worn every day, for these really are connoisseurs' suits.
Go to top
​
Tab Collar
Before the everyday anatomy of shirts lengthened itself to incorporate stiffeners, many (Edward VIII included) sought a collar that provided an all the more put together look. Electing for a tab collar ensures the shirt's points are held together by a strip of fabric that sits under the knot of a tie.
Tessitura Monti
Based in the north of Italy, Tessitura Monti is known for high quality 100% Egyptian cotton shirting. In business for over 98 years, Monti is proud to be continuing in their belief of providing superb quality of design and production.
Textured Solid
A solid, one color fabric with a textured weave, creating a pattern. Herringbone, for example, is a textured solid.
Trilby
A classically timeless hat made of soft felt that is creased lengthwise down the crown and pinched in at the front.
The trilby has a shorter brim that is angled down at the front and slightly turned up at the back, alternating itself from the American, wide-brimmed fedora.
Twill
Fabrics created by interlacing the warp and weft so that the fabric has a diagonal slant or twill line. Twill fabrics have a front and a back side, unlike plain weave, where the two sides are the same. The face side of a twill fabric is the side with the most pronounced wale and is usually more durable, more attractive, and used as the fashion side of the fabric.
Go to top
​
Unlined (Jacket)
An option for jackets and sportcoats. This option will leave the coat's inner stitching and construction exposed on the inside, where a lined jacket would hide the the stitching. This is a popular option in warm climates, but leaves very little room for alterations.
Go to top
​
Vent
A vent is a slit in the bottom rear (tail) of the jacket. There are three vent options in a jacket: center vent, side vents or no vent.
Virgin Wool
Wool spun for the first time. Not recycled.
Go to top
​
Warp
Lengthwise threads of a woven fabric. On a fabric, this is typically the vertical thread.
Weft or Fill
Thread that is woven across the warp at a right angle. On a fabric, this is typically the horizontal thread.
White Tie (dress code)
Even more so than other dress codes, you'll know when you've got this one wrong – especially if you interpret it as everything from black tie, just in white. Arguably the most formal of all – a fact pointed out when the invitation is delivered in French as 'cravate blanche' – white tie whittles down to tails.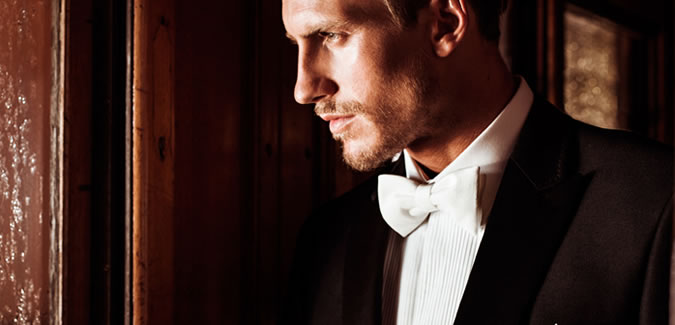 White tie is, in fact, not all white at all. It comprises of a black, single-breasted tailcoat and black trousers; both with silk grosgrain or satin facings (two, running parallel on the trousers as opposed to one in black tie), a white pique waistcoat, white stiff-front shirt, white bow tie (if it is pre-tied ensure it has an adjuster of some kind) and black patent shoes worn with black silk socks.
Windowpane
A pattern of thin lines forming large squares on a background of a different color. Windowpane was a very popular pattern at the height of Savile Row style and is very common today for men's suits, trousers, and sport coats.
Wing Tip
A wing tip shoe has a decorative toe cap that is usually perforated and covers the toe of the shoe and extends backward along the sides of the shoe from a point at the center.
Go to top
​
​
Yoke
The shaped section at the shoulders that connects all the other parts of the shirt. One-piece yokes allow for greater ease of movement where split yokes provide a more tailored look. Split yokes place a seam in the vertical center of the shoulder fabric, and the side panels are cut on the bias (diagonal) creating a mitered effect across the shoulders.
Go to top