5 Small Essentials Every Man Must Have
Disclaimer: This is not about essential trousers, jackets, shoes, or any of the usual staples. These must-haves are brilliant, versatile, game-changing accessories to keep you sharp and prepared for anything.
In the world of menswear, there are a million different products that all want to be the next "must have" in your collection. Socks, laces, watches, shirts, ties – the list kind of goes on forever. Let's assume you already have the basics, and you've realized there are a few things you love, but wish there was a simpler option available. Or maybe a more versatile application.
In this article, I'm going to showcase my top five small essentials every man must have.
Belt (not just any belt…)
Collar Stays (dual-purpose stays)
Pocket Square brilliance
Shirt cuff innovation
Watch that goes further
What are the requirements for these items being "must have" accessories? They each have to eliminate a frustration, extend the life of their respective garment, and work without the wearer having to "go the extra mile" to make it work. Consider this my pseudo-scientific approach to essential accessories. Let's begin.
Anson Belt & Buckle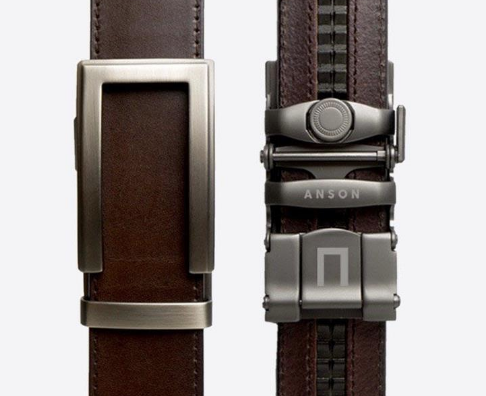 Honestly, there's very little I need to say about Anson. They are simply the best on the market. Their slide/click belt is hole-less, comes in two widths (1.25″ and 1.5″) and is easily cut to length, and even more important, each buckle and belt can be swapped around so the amount of complete looks is exponentially increased.
The days of having a worn out belt with creases, cuts, tears, and additional holes drilled are over. If you're still wearing an old cracked and weathered belt, you have no excuse. An Anson Belt will keep its cool so you can keep yours. In fact, I've written about this belt before. Here's a gif (pronounced "gif" not "gif") of how this bad-boy works.
You will never have to worry about a belt not fitting correctly, and you'll LOVE the ease with which you can remove just the buckle and get through airport security like a damn pro. I've purchased 5 buckles and 8 straps so far, and it pretty much covers every outfit I may ever put together. Get yourself an Anson and leave your holes behind.
ButtonUp Collar Stays
We've all lost the points in our collars at some point. Whether we took the shirt to the cleaners and they "mysteriously disappeared" or they were cheap plastic and needed to be tossed out from day one. At some point in every man's journey, he will have to purchase new inserts for his shirt collars. Rather than travel down the cheapest path, many men opt for nicer metal and brass versions. These are excellent choices, and I'd like to PLUS it by introducing the ButtonUp Collar Stay.
These metal stays come with hooks on the end, and at first glance, you have no idea why. Well, at least I didn't know why. Then I saw a video of how they work, and it clicked. If you struggle with sleeve buttons, or have thumbs that simply don't want to work well, these collar stays help button things up for you!
I'm actually giving away three of the new sets (pictured on the right) – if you're interested simply leave a comment below! It sounds too easy, right? Well, it is too easy. It's too easy to ignore it and someone else will win. The choice is yours, my friend. These things are awesome, and having a set or two in your car, travel bag, and closet will ensure you're never sporting a floppy collar or a button you can't win against. Pick up your own set of ButtonUp Collar Stays from my friend Mike at his site today!
FLXCUF – The best way to show off your cuffs
You're going to think I'm kidding when I tell you, but I was about to leave the house to head to the fabric store to make this product when Jay sent me an email out of the blue. I didn't know what I was going to do exactly, but there simply had to be a way to use elastic to tie my cuff together with my sleeves rolled up.
Thank God he reached out, because now I have these simple little FLXCUF ties to do the dirty work for me.
Here's why this is a simple product you're going to love: It's easy to use, it's inexpensive, and it allows you to slide your sleeves up and out of the way without having to roll them, potentially hiding your contrasting cuff.
I was told via Instagram that they're the dumbest thing I've ever promoted, but I disagree. I'm sure I will eventually put my name behind some absolutely horrible product that costs too much, does too little, and breaks too soon. I'll try not to, but I make no guarantees. I welcome your talking me off the ledge should I go too far!
Because my cuffs are almost always contrasting, and my clients like the same, when I fold up the cuff just once, it showcases the fabric. With these little doohickeys, I can showcase the contrast and  slide the sleeves out of the way. It's a very simple product, and it works like a charm. Just showing people what they are and what they do, I've evangelized a few dozen people to order a set and try them out. You should too!
Pocket Square Tool
There are a half dozen or so options out there for pocket square management. You can order a perfectly pre-folded square (read about it at that link), you can order squares that come with a folding grid so your fold it evenly every time, or you can pick up a clasp-style square holder to cheat.
I would like to introduce another idea. The Square Guard.
I just returned form Menfluential in Atlanta, and while there, I was able to take in all the amazing fashion and fabrics at play. I was also introduced to the Square Guard by a couple of guys using them. This lightweight plastic jig is perfect for taking the guess work out of making your square fold correctly, fit correctly, and stay correctly.
I ordered one for myself immediately. A lot of guys use the square-keeper and perfect pocket-square tools to make sure their squares are always in the right spot in the pocket. These clasp style keepers do exactly what they are intended to do, but I've found they're also flawed in one of two ways (and occasionally both):
The hinges on the keeper catch the fabric/lining of the breast pocket, and slowly tear the threads over time
The pouch used in their design makes the breast pocket on the jacket look too stuffed
Two versions I have suffer from the hinges issue. The designs are simply too wide, and are unforgiving to jacket threads. I don't want to risk my expensive jacket construction because a cheap cheat is too wide and sharp. The Square Guard is a different animal altogether.
You can fold those billowy squares into submission with ease. You can achieve the effortlessly perfect look of the points sticking out without having to figure out the best way to fold and load. You can just put the square through the guard, and drop into your pocket. It's one of the most excellent small essentials every man must have – even if it's not a Square Guard.
NATO Strapped Watch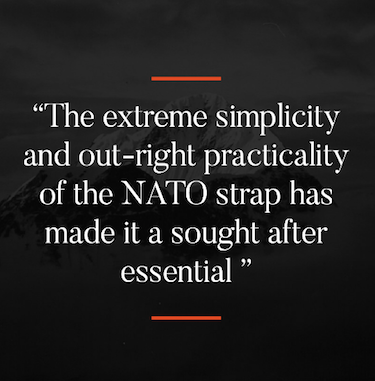 Beyond the flash of the fancy watches in our collections, we all have a go-to, right? Maybe it's a tried and true steel band watch that seems to fit every occasion. Maybe it's a classic white face with brown leather band that never looks out of place. For many guys, versatility isn't something considered in the purchase, rather, it's decided after-the-fact.
We will often wear the same watch to events all over the fashion spectrum. A steel band Seiko at the kid's little league game, or a rubber sports watch to a business event, or maybe even a G-shock to a wedding. Men just decide that that if it's good enough for one thing, it's good enough for everything.
Without expounding on it too much, that is a terrible way to treat your watch collection. You're forcing versatility in a space that already offers it, but with class. NATO straps, and the watches that they support, are an effortless way to change up your look for each occasion.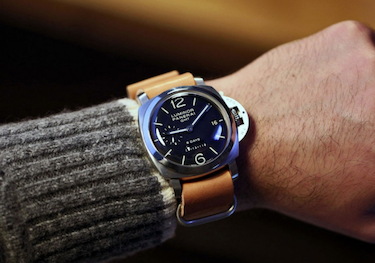 I personally have several watches that I've made into NATO strap watches. But by far, my absolute go-to is my Timex Weekender. I also purchased a set of different leather, nylon, and canvas straps so the watch is all kinds of versatile. And, because it's so clean, it is often mistaken for a much more expensive time piece.
Now, please don't think that setting yourself up with a NATO style strap will only work for cheap, casual watches. These straps are not reserved for just the knock-around pieces. In fact, some of the most expensive brands use NATO straps. Check out the Panerai on the right.  Gorgeous, right?
You can take a watch with a simple elegant face and setup, and expand its versatility exponentially through the use of new bands and straps. We all know changing the band makes a difference, but I purposely chose NATO as one of the essentials every man must have because of rule #3 – the item must work without the wearer having to go the extra mile.
These straps can be changed out in under 10 seconds without tools. Suddenly you're wearing a watch with a band that matches your belt, when a moment ago it was a watch band that looked like the American Flag. That kind of speed, affordability, and ease of use makes it my most impactful essential.
So, let's wrap it up.
The 5 small essentials every man must have are all about versatility, ease, and ending frustration. That being said, you probably have a few essentials you can't live without. I didn't mention them, did I? Share in the comments below, and let me know what YOUR go-to essentials are!