10 of The Best Travel Accessories for Long Flights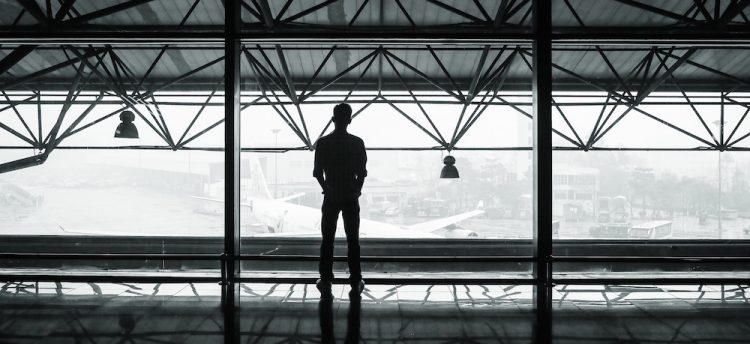 I have family all over the country, which means several times each year I am racking up miles in an aluminum can in the sky. I've had flights that were smooth and quiet, flights that were turbulent and noisy, and everything in-between. Whether it's a short fight or a long flight, there are a few key accessories that make your life significantly easier.
With my upcoming flight to Italy for my wedding, I have all my devices and comforts ready to go. Here is my list of 10 of the best travel accessories for long flights (or any flights, really). My best tip for all of these, however, is to buy them before you get to the airport. Sure, picking any of these up at the airport is usually possible, but convenience in this case comes with a very high surcharge.
1. The Quintessential Neck Pillow – $12-$15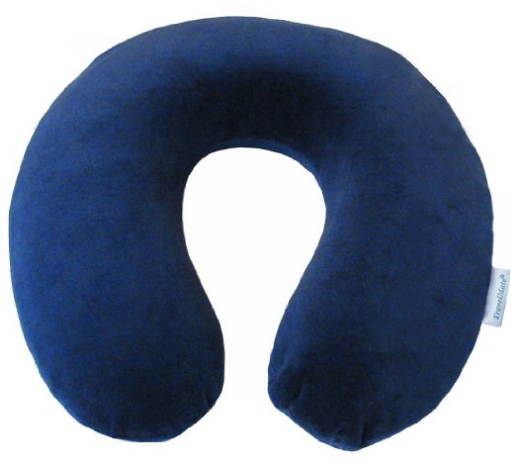 Do not be fooled by convenience or "additional features" on some of the pillows out there. A neck pillow that also vibrates, has built-in bluetooth speakers, and can wake you up when the plane is landing will end up frustrating you in the end. All you want is comfort and support, but what you get is stiff, plastic-filled foam that isn't comfortable for more than 2 minutes.
I'm a big fan of the Travelmate Memory Foam pillow. Nothing crazy, just a supportive, soft, lightweight pillow to help me catch some sleep between the runway in Dallas and the runway in Seattle. You won't be disappointed that it doesn't connect with your phone. A pillow shouldn't do that anyway.
2. Hanging Toiletry Bag – $18.99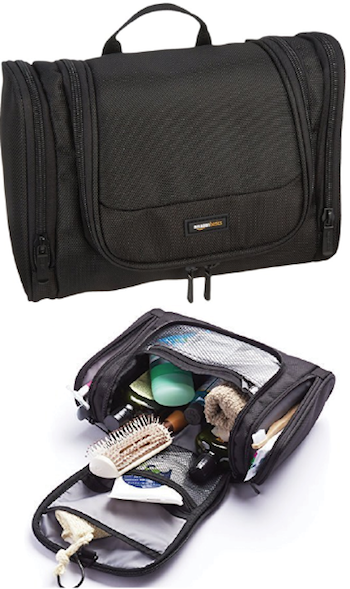 Gentlemen, I know dopp bags are in right now, but let's take a practical approach to space, convenience, and function for a moment. The dopp bag is excellent, but often quite small for gents with hair products, shave products, deodorant, skin care, colognes, etc. It also sits on the counter of whatever home, hostile, or hotel you're enjoying, which may be real estate you have to share. Hang it up, I say.
My fiancé (I'm going to have to come back and change that word to wife in a couple of weeks) has lots of jars and tubes of skin and hair care products, razors, cotton swabs – you name it, she's got it. She has it all neatly placed in a hanging bag that hooks to the door. Everything is accessible and out of the way. This one from Amazon is my new favorite. I keep my bear trimmer, cords, razors, scents, and shave kit all perfectly packed in it. Most men compartmentalize, so this is a physical manifestation of that. Open your suitcase and find another little case with all your bathroom stuff in it? Sounds like a dream to me!
3. Mini Surge Protector – $20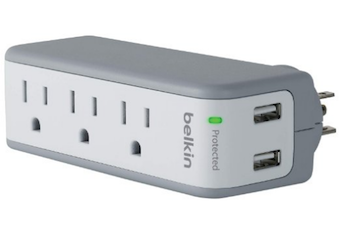 You may not need this on all your trips, but holy hell is it nice to have at the airport and when staying at places other than hotels. Outlets at airports are becoming easier to see, but not necessarily easier to get. Everyone and their mothers are plugging into the outlets with phones, tablets, laptops, kindles – anything that could be charged is probably being charged by the same person. We've all experienced it.
Or when traveling to a friend or family member's house and you find that the outlets work, but many of them already have lamps and clocks and other accessories plugged in. You have only one convenient outlet, but 5 things to charge. Enter this bad-boy.
With one outlet plug, you can charge three full-plug devices and two usb-plug devices. My mini surge protector swivels as well, so I don't have to worry about the direction of the plug or whether I'll have to unplug something else in order to accommodate my power strip. When the lady and I travel, this makes a world of difference in keeping us charged up and unobtrusive. It's cheap too!
4. Earbuds / Headphones – $7-$250
Let me preface this by saying, I do not subscribe to the "bigger is better" phenomenon when it comes to headphones. Along with that declaration, I also admit that I don't want to spend $50+ on a pair of headphones I'm going to destroy through workouts, travel, and everything else. Having said that, there are a lot of incredible options out there for both the in-ear and over-the-ear versions.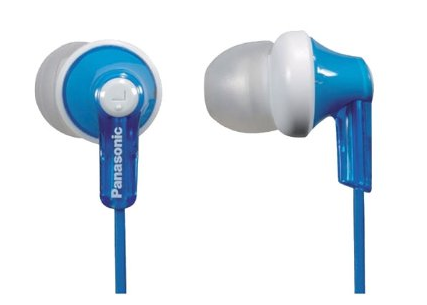 I have two pairs of in-ear pieces I rotate through. One of them is a cheap pair of Skull Candy Jib, and the other is a set of Panasonic ErgoFits I like to use for traveling. They block out more noise than the Skull Candy buds, and the sound quality is pretty outstanding.
The trend to move to over-the-ear headphones is lost on me, I'll admit. The big headphones look dated and silly, and certainly not very slick or dapper. Imagine James Bond in the airport. He looks fantastic. His bag is slick. His suit is on point. His watch is a thing of absolute beauty. Perched on his head, however, are an oversized pair of Beats by Dre. Suddenly he's not so fancy, is he? Perhaps a little silly maybe?
I personally feel like large headphones are the proverbial form of modern peacocking – trying to impress people with your shit. I much prefer the subtle look but large sound of decent in-ear speakers that block out screaming babies, while delivering shockingly good sound. No matter what your preference, headphones of some variety are one of the best travel accessories you can have.
5. Audio Splitter – $8
This is another "you don't know how great it is until you need it" product. Imagine you're on a four-hour flight and the screaming baby two rows back is hell-bent on making sure you aren't getting any sleep. Let's also imagine the passenger next to you is an attractive young woman. The two of you want to escape the shrill acoustics of the cabin, and you have your laptop or tablet for movies… nice move. With this handy-dandy little splitter, you can plug both sets of earbuds in so the two of you can drift off into Movieland together.
Smooth. Well played, Stud.
Another place this comes in handy is using it to entertain other passengers by lending it out. The twins behind you could really use some entertainment, but only one has the ipad. What's a gent to do? Why, he'll simply lend his splitter out and let them both enjoy the movie in silence… translating to you enjoying your flight as well. I never leave home without mine now because it's one of the best travel accessories I own.
6. Micro Umbrella – $18
Adding to the carryon or personal item is one often overlooked piece of equipment: the umbrella. Why did this make my list? Because it's a micro-umbrella. When collapsed, this bad-boy from Genius Pack is barely over 6″ in length. It doesn't get in the way of anything else in your bag, and it comes in all kinds of handy when it's raining cats and dogs at LaGuardia. You will be completely prepared without having to lug around a large, possibly unnecessary umbrella.
7. Carry on Like a Boss – $60+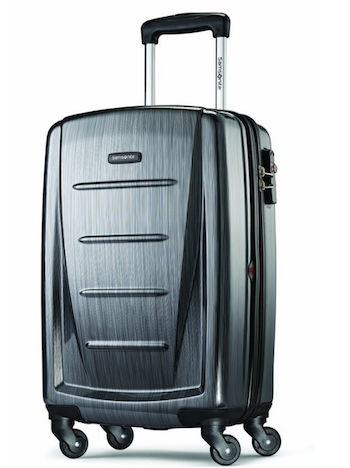 I was always a duffle bag kind of guy when it came to traveling, that is until my bag was crushed, mashed, mishandled, and nearly misplaced by heathen passengers rummaging for room in the overhead. After torn zippers, broken tags, and crushed valuables, I moved to team Hardside. Sure, there aren't any pockets on the outside and the interior dimensions are often a little smaller than their soft-side brothers, but it's a change I am fine with. I own the three-piece set from Samsonite (pictured), and it's outstanding. The locking zippers are a nice touch, and the extra protection goes a long way for me.
On the far end of the international spy luggage spectrum, we have the Barracuda. (click to check it out) It is so clever, I feel bad for all the other bags out there. I also have a RISE bag with the portable shelf design, and I love the hell out of it, but it's too big to be a carryon. As a checked bag or travel bag for a road trip, it's fantastic. You're going to live out of your suitcase for a few days at the hotel anyway, this bag allows you to stay neat and organized the entire time. Whatever your style, an upgraded carryon can make a big difference in hoe confidently you travel.
8. Portable Scale – $8
If you're not one to ever check bags, this one you can skip. The reason I think it's one of the best travel accessories is two fold: it's dirt cheap, and it will save you so much time, money, and/or hassle later. If you think your bag is the correct weight, but upon arriving at the airport you learn it's actually 4lbs over, you are now paying double to check that bag. No bueno, right?
Having a small scale at home allows you to double check the weight of your bags before leaving for the airport. This isn't because the scales at the airport are purposely designed to weight incorrectly so they charge you more – that's a conspiracy theory that's so rarely even remotely true. This little scale is so you know exactly how much those two extra pairs of jeans and mahogany watch box are going to cost you if you decide to pack them. Tip: they'll cost you a lot so don't pack them.
9. Portable Power Pack – $30
With most modern planes and airports having charging stations all over the place, you would think this wouldn't be necessary. Not true! If you're on the move, you don't really have the luxury of sitting down and waiting for your phone or tablet to charge, right? What if you're out taking lots of pictures on your trip, and you don't know whether you'll be able to charge back up mid-day?
Technology today allows for the most popular phones to actually sit inside special cases that contain a second battery (which is pretty sweet), but my LG isn't one of those phones. This battery pack (and any of the 13000mAh or more packs) is a workhorse. It sits in my laptop bag and is no bigger than a small external drive. I can throw my phone into the bag to charge while I commute on the train, through the streets downtown, or around a busy airport. These external chargers have gotten a bad reputation for being cheap – and they can be. If the price or size seems too good to be true, it is. This one, however, is amazing and it's only $30. Get one.
10. Netbook or Chromebook + USB Drive – $250
The days of portable DVD players are behind us, and laptops have gotten much thinner and lighter, but there's still a grey area where the Chromebook reigns supreme. If you have your laptop, you have your work. You have access to all the elements you need to suddenly be an employee on your vacation. Do you really want that? No, Jack, you don't.
I recently picked up a 12″ Acer Chromebook for Jami when her hard drive went out. It offered an immediate way to get work done while we waited for the warranty to send us a new drive. This little machine has all the tech you need to get stuff done online, but none of the hiccups or weight of a full cumbersome machine. Why is it one of the best travel accessories ever?
Pair it with a micro USB flash drive full of movies and you've got enough entertainment to last you through all the international flights your heart desires. To complete this, I purchased this Acer Chromebook and then this micro-USB drive, ripped the classics from DVD and using Handbrake, converted everything to HD-ready mp4 or m4v. Now, I plug the drive into the Chromebook and BOOM. 32GB of movie mania. It, along with the audio splitter, has made long flights a vacation in and of themselves.
What are some of your go-to travel accessories? Did I miss anything important?
Share your thoughts in the comments below so we can connect.