Finally, Dress Socks that Won't Slide Down
Gentlemen, we have a problem, don't we? We purchase socks as a necessary evil and tolerate frequent daily adjustments when those socks don't live up to expectation. They slide down throughout the day, they're loose after a couple of washes, and start falling apart far too soon. It's a problem. But, it's also preventable.
Several solutions have been introduced to combat this slippery slope of sock mayhem:
Longer socks – I kid you not, people are just now learning that over-the-calf socks are better (they still slip)
Garters – which, let's be honest are only cool at keeping a shirt down, not a sock up
Double-sided tape – also not something I thought would be suggested
BUY A BETTER SOCK – This is the winner.
The secret to having dress socks that won't slide down is making sure you have the best damn sock in the world. One that's comfortable, colorful, breathable, and guaranteed not to slide down or slip off. That sock is here, gentlemen.
That wonderful sock is DeadSoxy
When you hear suggestions about buying better socks, you might think you'll have to upgrade to socks with better fabric that adheres itself to your skin. You might even think that getting better socks just means you'll be in an elite club that gets to adjust their socks with their noses up because the socks are designer.
Both are incorrect assumptions.
When you get a better sock, you don't have to adjust it anymore. You don't have to worry about the fabric getting loose or stretched after a few washes. In fact, you don't have to sacrifice anything. With DeadSoxy, at least, you get more than you bargained for, and you find yourself falling in love with them more every day.
Made from a bamboo-cotton blend that not only doesn't hold odor, but also wicks away moisture and breathes easy, these socks are all kinds of versatile. They offer mild compression across the mid-foot, a reinforced heel and toe for strength, and the patented no-slip technology means they're not going to fall down on the job.
After a full day of wearing them in and out of meetings, across the city on foot, and finally sitting down to dinner, these socks were still up and ready for more. Finally, dress socks that won't slide down.
Add personality to your base layer, damnit.
Despite what you may have learned, it is absolutely acceptable to wear socks that showcase your personality with colors and patterns with your suits. The only exception to this is white sport/casual socks. Don't ever wear white socks with anything but sneakers. Even white suits avoid white socks. Okay, let's move on…
Rather than being just another suit in the room, be the sharp-dressed guy with the most amazing socks. Perfect polka dots, spectacular stripes, and killer color blocks are all available for your next outfit.
My sock collection has given my wife at least one heartfelt outburst of, "honestly, how many dress socks does one man need?!?!" I've discarded a lot over the last year because they simply don't cut it anymore. I have two pairs of plain black socks, but they're only for emergencies. Everything else is a DeadSoxy sock because they are dress socks that won't slide down. It's that simple.
Time to be honest with you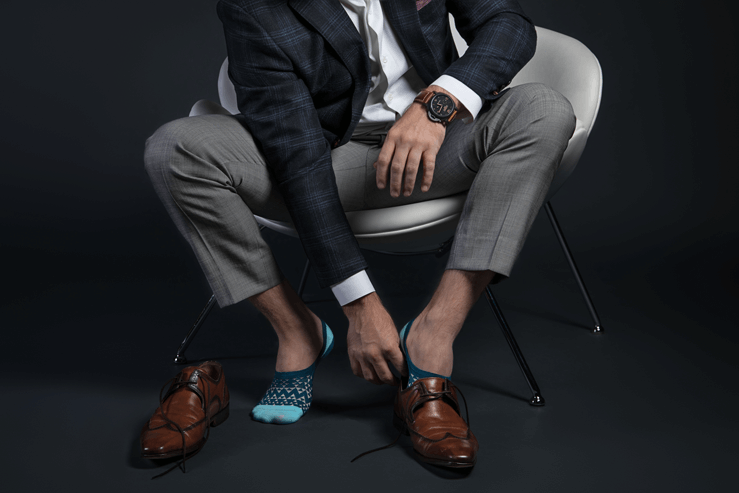 I know reading over this post, it definitely sounds like a commercial for DeadSoxy. And as much as I want to argue against that, it can't be helped. My good friend Jason started DeadSoxy and I've been watching his socks evolve and the company reach new heights. It's incredibly exciting to watch a friend succeed, and even more exciting, is that he's doing it by giving people a product that actually does what it says and eliminates frustration.
I'm proud to wear my DeadSoxy socks, and I'm always enthusiastic about sharing products, services, and people I believe will make us better.
Sharp Gentlemen get a discount
Because I also love a good deal, I've got a deal for all of you. Check out www.DeadSoxy.com and find the socks that fit you best, and use the code: ONESHARPGENT at checkout for 20% OFF and FREE SHIPPING.
These dress socks are guaranteed not to slide down, but that's just the beginning. DeadSoxy also offers incredibly comfortable no-show socks that are guaranteed not to slip off. This basically covers all your bases and renders all other socks obsolete, right?
Oh, and they also offer custom socks you can design with their team. This is a huge win for company gifts and team packages.
You bet it does. These are the best damn socks in the world.
Get Yours Today Code: ONESHARPGENT
Let me know what you think about DeadSoxy in the comments.
What other companies do you think is doing things right and should be featured?
Leave a comment so we can connect!