How to Write a Love Note to Your Wife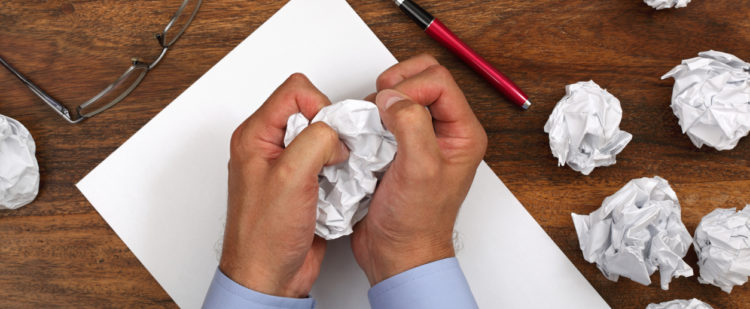 It's your anniversary (or some other occasion) and there you are staring at a blank card. It's mocking you with its emptiness, taunting you with thoughts of inadequacy. Dramatic? Maybe a touch, but some of us don't know where to start when it comes to writing a love note. However, from time to time you'll be compelled to write something heartfelt for your significant others – so having a few tips will help.
Whether it's a handwritten card, a brief note, or journaling in a notebook for her, conveying your affection with words doesn't have to be a daunting task. You can write a meaningful message that will be received with all the love you've intended by just thinking through a few points below.
Size does matter
Sure, size matters but love notes are not one-size-fits-all. Sometimes a short "I love you" note folded up in her book or magazine is all you need to say everything. Other times, if words are your friend, several heartfelt pages of writing can really convey your thoughts. Neither length is wrong – but you have to know what timing and occasion call for the proper length.
In the end, it's up to you – you don't need to write a novella to reach her heart. Sometimes the shortest of notes is perfect.
Why do you love her?
To be heartfelt, a love note needs to connect you both. Mentioning at least a few reasons that you love her can draw her into your note. Reminding her how important she is to you shows her you appreciate her, and if "words of affirmation" is her love language, you'll be speaking directly to her heart.
Example: Babe, you are my soulmate. When good things happen, you are the first one I want to share them with. When I've had a bad day, you are the only one I want consoling me.
Remember when?
Reminding her of a memory that you have had together is a great way to show her that you enjoy and appreciate your time together, evoking feelings of love and affection. Show her that you value her and enjoy her company by reminding her of the good times you have shared recently.
Example: Honey, I loved our trip to the Texas State Fair last month. I can't imagine a better day, or a sexier person to spend it with. It was the perfect day, with corn dogs, fried stuff, and best of all – you!
Better Together
If she's so great for you – let her know. Tell her that your life is better because of her being in it, and your family is better because of her too. Give her credit for making your life and your family better. Remind her of situations where everything was better because of her and really show your appreciation for the love she brings to your life.
Example: I wouldn't want to imagine my life without you in it. You make my days so much better and you are the rock of our family. I appreciate how you do so much for the kids but always find ways to make our time together special too!
Tell her you are grateful
You may say it often, but probably not even close to enough. Reminding her that you love her and appreciate her with a "thank you" wraps up a note nicely.
Example: Thank you so much for being by my side every day. My life is better because of you!
Other Thoughts
Decoration
I'm not a great artist, but I have a decent ability to duplicate sketches by site – so I often accentuate my notes with a drawing or a sketch of some nature scene. If you have even the smallest of artistic talent, break it out in a creative way. Perhaps you can only draw a heart, or XXX and OOOs, but being playful with a love note can be extremely romantic and heartfelt and if you don't enjoy writing, a decorative sketch can be a great space filler.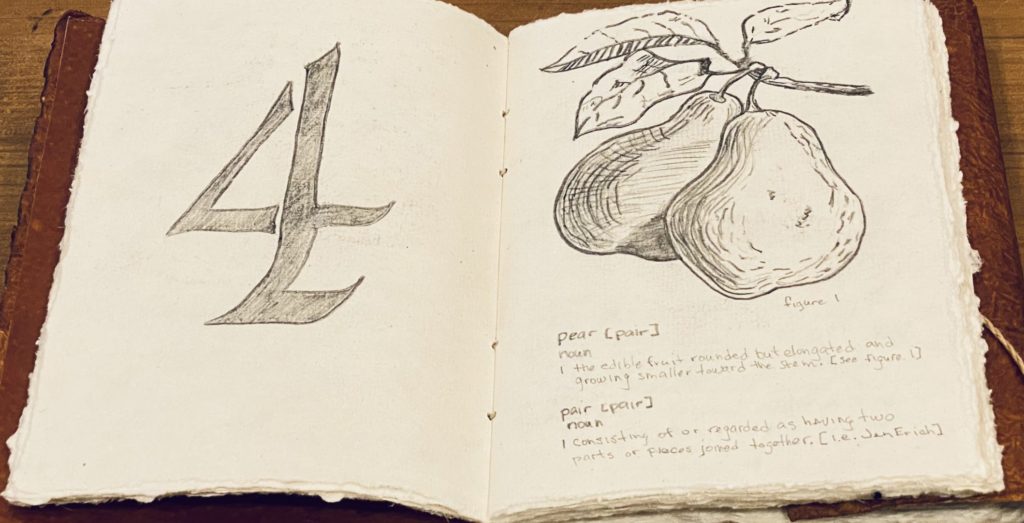 The medium
Make it pretty? Typed? Handwritten? Hallmark card? Sticky note? Uh, yes and no!
One of my close friends recently brought out the construction paper and crayons on his anniversary and created his wife a card (kindergarten style). Although simple can be well received, you'll need to know your audience. If your wife has higher expectations, or if making a construction paper card won't be endearing to her and you know it, find a nice blank card like Papyrus or Lovepop, or check out a card subscription at www.youmorethoughtful.com so that the packaging does indeed match the sentiment.
I have also found all sorts of different papers and objects to write on. World Market once had miniature scrolls so I had to buy them and my wife (fiancé at the time) received a tiny, rolled-up scroll the next day. I'm fairly certain I saw that on a shelf in her closet recently, about 5 years later.
The placement
I love to surprise my wife with a note in a place I know she will find it in the course of a given day. When I travel, I almost always place a card between the pillows so that she sees it and thinks about me before going to bed that night. Other great places are by her bathroom sink, or in her car seat, or get more creative.  To this day I see many of those small notes in books she is reading, in her car, by her sink, etc. It seems that those messages keep on supplying a feeling of affection that she continues to enjoy.
One of my subscribers even placed a note in a bag of chips so he could be sure his wife would find it – it worked.
Follow Through
I've actually written a short card for my wife when she was going in for a medical procedure, and I forgot to give it to her. Embarrassing? yes, but it happens. Make sure you nail the landing on the love note by remembering to give it to her.
The smallest of actions is always greater than the noblest of intentions – Robin Sharma
Sure, it can be difficult to know where to start when writing a love note to your wife. But using some of the ideas mentioned above will give you a great starting point – So, do it today!
Write her a note of any length and tell her how specials she is to you. It will make her day, you will feel good about yourself, and it might just improve your marriage at the same time.