10 Essential Rules to Dressing Like a Grown-up
It's a new year and so many resolutions are centered around building a "new you" (for real, this time). Keeping your resolution and coming out victorious can be challenging, to say the least. In my last article and podcast, I talked about the best new years resolution ever, but this time I want to cover some ground rules for dressing like an adult.
Maybe you're a recent graduate and are looking to make a name for yourself in the real world, maybe you've finally been forced to get yourself a "real job" and stop wearing hoodies and playing Call of Duty, maybe you're just tired of looking like you don't have a clue what you're doing – whatever the reason, here are the 10 essential rules to dressing like a grown-up.
Get yourself a suit that truly fits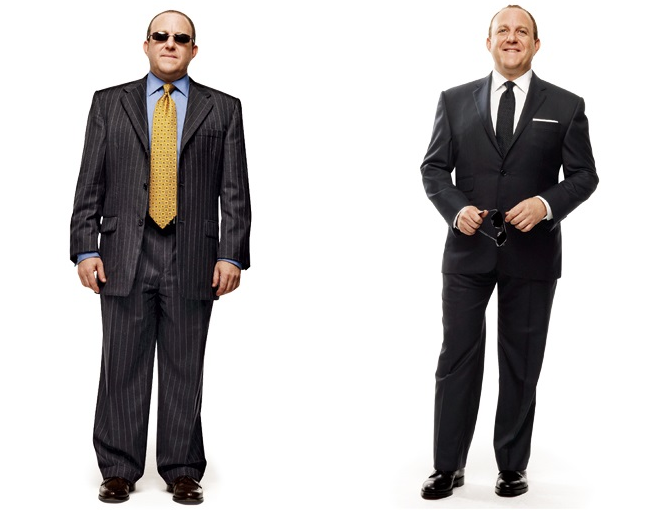 One of the biggest rites of passage for men is getting a suit. The gentleman's version is getting a tailored suit. When you first pick up a suit, it's probably cheap and in "one-size-fits-all" classic cut. This means it's baggy where it shouldn't be, and probably an inch too big in the shoulders, sleeve, hips, and length. Hey, don't worry about it – every guy goes through this process in the beginning.
A well-tailored suit is to women what lingerie is to men. It changes the way people see you, how you see yourself, and how you operate in the world. It radiates confidence, even if you aren't that confident just yet. The first rule of dressing like an adult is to get a well-tailored suit. It's an investment, I know, but the rewards and mileage you'll get out of it pays 10-fold. My suggestion to accompany this rule is to choose charcoal, navy, or grey as your suit color, not black.
Black is a great color for funerals and announcing, "Hey! Look at me! This is my first suit!" It's a staple in every man's wardrobe, but it certainly shouldn't be the first. Navy is your best option because it's more versatile than nearly everything else out there. A navy jacket with a nice pair of jeans and button up is far better than a black jacket. A black jacket with jeans screams rookie real estate agent. You can do better – especially if you are a rookie realtor.
Overhaul your outerwear
It's winter in the northern hemisphere right now, which means it's time to bust out your coats, scarves, and gloves. This is also the perfect time to notice where you may be missing the boat in your grown-up wardrobe. If you're still wearing that
Michelin Man football jacket –you know, the one that looks like it came out of a hip-hop video from the late '90s– this is for you.
You need an upgrade. One of the best options in outerwear is the time-honored pea coat.  It's a wool or cashmere, double-breasted jacket that keeps you warm and looking sharp as hell when the temperatures get low. If you're not sure what to get, this one is affordable, fashionable, and has good reviews.
If you're looking for something much higher end, I have some options for you. (see picture on the right) Not only are some of those coast and vests sporting Loro Piana fabric, they're also on sale. Can't go wrong there, right?
The point is, you'll look a hell of a lot more put together when you walk out in a well-fitting wool overcoat than you will in your beat up Green Bay Packers jacket. Packers? Seriously? Don't be that guy. (Admittedly, I'm from Chicago, so I have a built-in hatred for the Packers. Doesn't change the fact that your puffy sports coats need to be replaced with well-fitting grown-up coats, my friend. Packers or not.)
Invest in quality denim
Don't forget about this one. In the essential rules to dressing like a grown-up, wearing jeans is not overlooked! The first step in pairing jeans with anything is making sure you have jeans that fit. First step in doing that is taking the time to try on absolutely everything you think you might like, and having a friend (preferably female) give you the honest truth about how they look. Men tend to buy jeans that fit poorly because they're comfortable.
Younger men, however, tend to buy skinny jeans that also fit poorly. If skinny is not a word people use to describe you, you shouldn't be wearing skinny jeans. Slim, however, is usually the right answer. A good place to start is a department store like Kohl's because they have a fairly substantial selection of Levis. Try everything from 501s to 505s, 511s, 514s, etc. Find a fit that looks good in the seat, fits your waist, and doesn't have a ton of unnecessary fabric through the leg. You want them comfortable and fitted, not baggy.

Once you know what kind of sizing, fit, feel, and finish you like (and looks good on your body), I invite you to upgrade to designer brands. AG Denim makes great jeans, and they fit and feel much better than you've come to expect from jeans. One of my absolute favorite fitting jeans is 7 For All Mankind Slimmy fit. They're essentially a fitted cotton jean with a touch of stretch. Very durable and very forgiving. Shorter guys will need to get them hemmed at the tailor, but that's not a big deal. One thing to note here is that you do not want your jeans to say loose, relaxed, or boot cut. Trust me, those days are behind us.
Sharpen your shoe game
There's no reason why you can't wear your Chucks, but you should have a versatile lineup for other events and outfits. When you're wearing dress shoes, whether brown or black, they should reflect an attention to detail and classic look. By this, I mean you don't want to have shoes you purchased at Walmart. Nothing ruins a good looking suit like crappy shoes.
Good shoes pay you back in mileage and style. Sure, you can pick up a pair of Stacy Adams for around $70, but I'll put good money on it that they don't last you more than 6 months. In another article, I reviewed shoes styles you should be familiar with, and in it I mentioned Allen Edmonds as a great example of shoe quality and longevity.
They range from $130 to $400 for a pair, but let's look at the long term cost. I have a pair of brown oxfords that are on their third year. Perfectly worn in, comfortable, and they still look amazing. I can get them resoled (Allen Edmonds calls this reconditioning) and it's like having a new pair. Over time, this is pennies on the dollar. Johnston Murphy is my second go-to brand when I want the look and longevity but at a lower price point. Good shoes keep you looking like you're in charge, and that's a good thing.
Take your shirts to the professionals
The dry cleaners are your friends. Let them wrestle with your shirts, slacks, jackets, and whatever else you have. They have a process and quality control to make sure you always receive a perfectly cleaned and pressed garment. Look, there's nothing wrong with laundering your own dress shirts at home (most of them anyway), I do it, but where most men drop the ball is in the pressing and hanging step.
I wash several of my dress shirts at home, dry them for only a few minutes to build up some steam, and remove them from the dryer to hang them. After an hour or so, I press them myself, and hang them in the closet. It's a pretty simple process, but it takes time. If you don't want to spend the time in the upkeep, don't cut corners – let the professionals take care of it for you.
A wrinkled outfit makes you look unprepared and immature. Even the most upstanding, responsible, independent man will look like he lives in his mom's basement if he suddenly appears in a wrinkled outfit. C'mon my friend, you don't have to let it be like this. Let the pros do the dirty work (literally) and you'll always look clean and crisp and ready for business.
Accessorize with attention to detail
When out in the world adulting, pay attention to well-dressed gentlemen. What is it that sets them apart from the others around them? Fit aside, one of the next things you may notice is their accessories: the watch, the lapel flower, tie bar, etc. You're a grown-up and deserve grown-up accessories, right?
Damn right. Invest in a few good tie bars or clips, a set of cufflinks, a lapel flower (or a dozen), and my personal favorite: pocket squares. These small details will give you the biggest bang for your buck. A pocket square and lapel pin alone will change the caliber of your entire look. Check out some of my favorite companies for help: Weekend Casual – SprezzaBox – GentsMode – MVMT Watches (although here's a primer on the best budget watches). I'm in the process of manufacturing my own line of pocket squares as well, so make sure you sign up for the updates and discounts when they launch later this year!
Upgrade your tees and casual shirts
While you may love those old and worn thin t-shirts, it's time to make room for some upgrades. You don't have to throw away all your AC/DC or Nirvana shirts, but definitely take them out of front and center and put them in a drawer, box, bin, or someplace else in your closet. Pick up some well-fitting black, grey, olive, charcoal, and even crisp white shirts.
These are different from undershirts (which should also be upgraded every six months to a year). You will wear these under a jacket or by themselves. When upgrading your casual shirts, check out some of the fitted button-down shirts from companies like Untuckit – casual shirts, henleys, and button-downs that are meant to stay cool and casual.
Ditch the pleats – ALL the pleats
The only exception to this rule is side pleats on tailored dress shirts (or the occasional dart on an old shirt that's been tailored to fit). Pleats are rumored to be making a comeback, but I'm not having any of it. Pleats make your trousers puffy in the seat, they make you look older (not wiser), and they make your fashion sense appear outdated and stuffy. Whenever possible, avoid pleats and go with flat-front trousers and unpleated shirts.
Keep your ties on the straight and narrow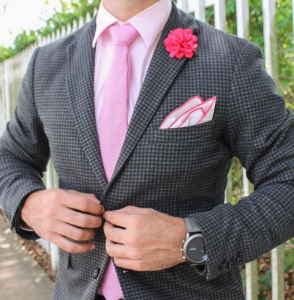 Back in the 80s and 90s, a fat tie with a fat knot was a thing to covet. Combine it with a contrasting cuff, collar, and suspenders, and you were a stock trader's wet dream. Times have changed and we're seeing the welcome resurgence of skinnier ties and lapels. In this new era of slimmer, leaner, meaner, and better fitting, opt for a narrower tie than you may be used to. If you're really attached to a particular tie (or several dozen), you can send them all to SkinnyFatties and they'll narrow them out and ship them back! I have a handful of them and they're excellent.
Shortlist your shorts
While you're not worried about wearing shorts this time of year, it still needs to be mentioned. Now is a good time to clean out your closet, upgrade some things, and completely eliminate others. When reviewing your shorts, you want to upgrade any old pair of khaki, olive, or navy shorts you may have, and completely eliminate any and all forms of jorts – jean shorts. When upgrading, select shorts that are cut to be "athletic" or "tailored" in the fit, stop just above the knee, and do not have cargo pockets. You're not going on a safari, so put the cargo shorts away. You're a grown-up, remember?
–––––––
This has been a lot of information to take in, I know. Consider it a chapter in the upgrade manual for your closet. A few tweaks here and there, and you'll be a sharp dressed adult before you know it. I hope you enjoyed the 10 essential rules to dressing like a grown-up, and for quick reference, here they are listed:
Get yourself a suit that fits (charcoal, grey, navy – not black)
Overhaul your Outerwear
Invest in QUALITY jeans (designer denim + fit)
Sharpen your shoe game
Professionally clean and press your shirts
Accessories & Attention to detail
Upgrade your tees & henleys
Ditch pleats – all pleats
Narrow out your ties
Shortlist your shorts
SPONSORED by Every Man Jack
Every Man Jack knows how to take grooming to the next level with amazing (and natural) skin, hair, and shave care products that are second to none. As a reward for getting to the end of this article, I have a discount code for you to use at checkout: 1SHARPGENT – that will get you 25% OFF your order! Enjoy!
---
There are plenty of fashion rules out there, so let's hear what you've picked up over the years. If there's something you think I missed, please share it in the comments below!