Every Man Jack Review: New Razor & Essentials
Back in December, my fiancée brought home a present for me: Natural Cedarwood deodorant from Every Man Jack. This is important to me because I like to smell good, but I also don't want to have hardcore chemicals clumping up in my pits to make that happen. I've tried lots of other natural deodorants and find that many of them are wonderful… that is, until you sweat.
They're either not strong enough to handle a little hard work, or they seem to hold up pretty well, but stain your shirts and skin. I have been using another company's natural offering for about a year now, in rotation with my trusty Old Spice Swagger. The issue, for me at least, has always been staining with natural products, and clumping with your generic brands. I like to wash completely clean in the shower, and as much as I love my Old Spice, it's an antiperspirant so it clumps and clogs and doesn't really come clean.
Fast forward a week and I am putting the EMJ stick through the ringer. Working long hours, meetings, presentations, traveling, and recreational activities left me certain this deodorant wasn't going to hold up. I was wrong. Not only did I smell clean, but it washed completely away in the shower each morning.
I thought I'd give a proper review to more of their lineup, including their new Manual Razor, so you get The Sharp Gentleman's take on what it's worth. I opened a dialogue with the team over at Every Man Jack, and a few days later I had a kit at my doorstep. Here's what I'm covering in this Every Man Jack review:
The Manual Razor
Eucalyptus Mint Shower Gel
Deodorant (vs. Old Spice Swagger)
The Manual Razor
It seems like all grooming and style companies are releasing their own versions of the best razor available. A few years ago, everyone was pushing for more high tech automatic shavers and cordless razors. I'll admit, I even had an electric shaver with the lotion that squirted out onto the blade surface (which was an absolutely ridiculous design, my the way). That was 12 years ago. Next came the age of better twin blades, then three blades, then four, then vibrating, roller-ball, razors with headlights so you can see where you're shaving.
Wait, what?
Seriously. I wish I was kidding. The trend has changed again, in favor of simplicity and returning to the basics of manliness and shaving with a razor – not a vibrator. Every Man Jack has followed suit. The new Manual Razor is a cartridge razor like many others out there, but it's different in two key ways:
Six blades on each cartridge
Modern heavy gauge metal, no-frills design
Six blades, my friend. Six. I was once a firm believer that the first three took care of your whiskers, and each additional blade simply shaved off layers of skin like a vegetable peeler on a cucumber, but that just isn't true. These super thin blades are spaced just far enough apart to prevent the clumping and collection you find with other razors. I was convinced it was voodoo when shaved a few rows of my
head and discovered no shavings waiting to be rinsed off the blade. The blades were still visible and ready for more action.
The handle is heavy but easy to adjust to because it feels like you're actually holding something of value. Coming from the cheap-o disposable way of life, I never felt like I cared about my razor. This new, heavier-duty, "this is my rifle" version of a disposable razor gives me a sense of pride about my shaving routine. It's like that heavy duty new tool you just added to the toolbox: You don't need to use it every day, but man does it make you feel macho every time you break it out. It's just like that.
Overall, I'm extremely happy with the manual razor because the six blades really are comfortable and resilient, and it gives me a close shave with less effort. Bonus points go to it for being metallic and slick, rather than bright neon orange with battery powered lights, sirens, and/or vibrator. Sheesh.
Eucalyptus Mint Shower Gel
Alright gentlemen, let's have a moment of honesty. We don't really care what kind of shower gel we use as long as it meets two conditions: we like how it smells, and she likes how we smell when we use it.
As far as shower gels go, this one behaves like the rest, with the exception of having none of the bogus filler ingredients found in everything else. This is actually better for your body than the other bottles you're using. More importantly, it smells unbelievably good. A fresh morning shower made better with the invigorating scent of mint and eucalyptus radiating from your filthy pits – what could be better than that? Oh yeah, you will smell more attractive to the ladies.
My fiancée loves mint, so this was an easy win for me. If your lady loves mint, you owe it to yourself to grab a bottle of this shower gel. I also have the Cedarwood scent and it's honestly my favorite smelling shower gel ever. Get some.
The Deodorant Showdown (EMJ vs. Old Spice)
Like I said in the beginning of this article, the deodorant is where it all began, and I want to give you a more thorough analysis of the pros and cons of using EMJ naturally-derived, aluminum-free deodorant vs. tired and true Old Spice Swagger. Because I'm a big fan of my OSS, I'm going to give it to you straight.
Old Spice Swagger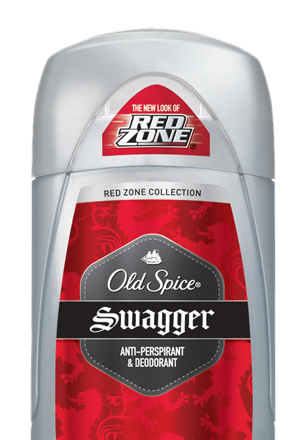 The two best things about Old Spice are that it simply doesn't quit, and it smells amazing all the time. I love that it's something I can put on and know, without a doubt, that it's going to stand up to whatever challenge I present to it. The smell Gods smiled upon the fateful few that put the Old Spice line together, that's for sure.
Pros:
Reliable clean smell all day
Readily available (drug / grocery store)
Aluminum Zirconium & Dipropylene Glycol versions
Track record of success
Cons:
Clumps and doesn't easily wash away
Stains / Hardens armpits of shirts
Antiperspirant ingredients aren't good for you
Can occasionally smell a little too fruity
Can stay visible after application on skin
NOT cruelty free (dude, that's not cool)
Every Many Jack Cedarwood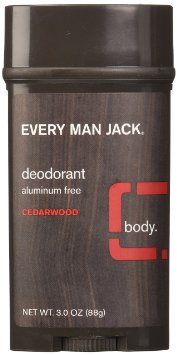 The Cedarwood smell is unequivocally the best smell in the EMJ deodorant lineup, and that makes it a perfect contender for this challenge. More than just a pretty face, the EMJ deodorant knows how to get to work when the going gets tough. He's not afraid to get his hands dirty and put in the long hours. How does it measure up?
Pros:
Natural & Aluminum-Free
Smells like a crisp Spring morning
Doesn't stain or harden your shirt pits
Washes away clean every time
Perfect for sensitive skin
Cruelty free (well done, EMJ)
Cons:
Scent fades because it isn't an antiperspirant
Won't last more than 12 hours (safe to reapply)
Doesn't refresh as well without a shower first
Not strong enough for hardcore sports/gym
Bottom Line: keep BOTH in your arsenal. I personally wear my Every Man Jack deodorant daily. Occasionally, I'll reapply before heading out the door in the evening, but it doesn't bother me because I still feel clean and know it will wash away in the shower. I keep my Old Spice for hardcore days at the gym and days I know I'm going to be running around for 15+ hours.
We've all had those super long days where we don't feel or look our best when it's over, but that doesn't mean we have to also smell completely spent. That's why I keep my Old Spice. I consider it like a heavy duty wrench in my toolbox. When I absolutely, positively have to make it happen through blood, sweat, or tears, I reach for the big wrench. That's my take on it. Every Man Jack easily takes care of everything else with flying colors.
---
Coincidentally, I've got a promo code for you so you can take advantage of some savings on your next order of Every Man Jack products!
Every Man Jack knows how to take grooming to the next level with amazing (and natural) skin, hair, and shave care products that are second to none. As a reward for getting to the end of this article, I have a discount code for you to use at checkout: 1SHARPGENT – that will get you 25% OFF your order! Enjoy!
What natural deodorants or skin care products have you used?
What's your take on natural vs. the regular stuff?
If there's something you think I missed, please share it in the comments below!