The Sharp Gentleman's Filippo Loreti Review
An honest Filippo Loreti Review.
UPDATE: All is NOT what it seems. Click here or scroll to the bottom for the TRUTH.
From time to time, a brand or design will catch my eye and give me all the warm and fuzzy feelings I'm looking for. Maybe it's a new model, maybe it's a color, or maybe a new design altogether. Something I'm used to experiencing is the immediate desire to have it. I'm also used to items being either ridiculously expensive – why can't that AMG GTS be closer to $50k instead of $150k – or built with terrible materials, methods, or worse… both.
When I got in contact with Filippo Loreti watches, I was mesmerized by the design and the medium blue band. I couldn't take my eyes off it, and almost ordered it to review. Then, after giving it some thought, I knew the blue wouldn't get the wear time it deserved, so I picked up a beautiful white face Venice Moonphase with silver mesh and brown leather bands.
Having worn it for three weeks now, there are a few things you need to know about this premium watch company that offers timepieces that look like a million bucks, but don't cost anywhere near it. As a matter of transparency, none of the links referenced here are affiliate links. It's a beautiful watch and if you would like one, you can purchase knowing I'm not getting a piece of that pie. That pie is all yours my friend. You can read all the Filippo Loreti reviews – people really love this brand.
Honest Filippo Loreti Watch Review
When it first arrives, it comes in this wonderful little black box with a red ribbon attached and tied in a bow. I feel like the packaging and bow make it all the more interesting, as if to demonstrate that a watch isn't as important as the sense of luxury that accompanies this watch.
Yes, it truly is that beautiful.
One of the things I really like about Filippo Loreti is their regular approach to a premium timepiece you can wear every day. This is how it all began. Two brothers, Danielius and Matas Jakutis, were shopping for watches in Milan in 2014 and quickly found themselves fed up with the insane prices most watch retailers were charging for luxury watches.
So they researched the premium watch industry to find the crux of the matter. What they discovered was that high-end timepieces were (and still are) being created with excessive markups. Some were being sold for 4,000% more than it cost to produce them.
They saw an opportunity and looked deeper to understand why this was the case. What they found was that the majority of the price of a quality watch had nothing to do with production costs and everything to do with expensive marketing campaigns, inefficient supplier relationships, and excessive markups by brands and their distribution partners.
They believed that everyone should have the opportunity to enjoy the look and feel of a premium timepiece, without having to pay thousands of dollars for the privilege. They wanted to figure out a way to make beautiful, premium timepieces available to ALL people at a fair price. So they founded Filippo Loreti.
They nailed it.
The design and construction is really spot on. It has all the details of a much more expensive premium watch, and even details that set it apart. As someone that loves a good watch, even if it's a cheap watch, I'm a little bit used to sacrificing one detail for another. A beautiful face and features, but a cheap faux leather band. Or a gorgeous design look, but poor construction of movement. Or a watch that ticks all the right boxes but is so unique that its versatility suffers.
The Filippo Loreti manages to turn heads effortlessly while sacrificing next to nothing. I know the beautiful blue watch Venice Moonphase would have caught everyone's attention for being unique, but the silver and white face with the brown leather band does an even better job as the perfect dress watch. Classy, refined, uncompromising in its detail, and a blatant refusal to be flashy for no reason – it doesn't get any better than that.
The Filippo Loreti Venice collection recently got an upgrade before they released it, and I feel like it makes a world of difference in premium watch curation. They upgraded the movement to the Caliber P600 Quartz, which added the Moonphase option as well.
Who else is talking about Filippo Loreti?
They're disrupting the watch market with each new release and write-up, and after wearing mine, I can totally see why. I have a few very expensive premium watches, but they were purchased on the grey market because I don't need to pay full retail for something I know has a four-figure markup percentage. Filippo Loreti answers the call by giving you the luxury you want at a price that seems almost too good to be true.
What I like about the Filippo Loreti Venice Moonphase
The watch is beautiful and comes with two bands: leather and a silver or gold mesh. The leather band is genuine leather and is soft and comfortable. The metal buckles and clasps on the bands are wonderfully made and bear the Filippo Loreti name engraved. I mean, the details on this timepiece are definitely a cut above. The Basilica di San Marco is engraved on the back of the case in all its glory, truly showcasing the intricate Italian architecture.
The bands are equipped with this brilliant idea: a spring loaded pin and tab so you can change the band without tools or a trip to the jeweler. I changed from the leather band to the silver mesh in a matter of seconds. These other watch makers need to get with the program and follow suit.
I love the 10 year warranty. This just shows how strongly Filippo Loreti backs up their design, construction, and movement.
I love the price. The Venice Moonphase retails a little over $300 USD right now, but they have another line that's even more affordable. For the "automatic or nothing" connoisseur, they offer a full automatic line for a touch over $600 USD. For a timepiece of this caliber, that's a stellar price point for any buyer – especially for an automatic!
My only complaint…
This is going to sound silly to some of you, but it's no less important so stay with me. Most of my watches, from my TAG to my Timex, are a little thicker in the case, so the adjustment knob doesn't rest against my skin for the most part. My Skagen models are super thin, and the adjustment knob spends all night scratching against the top of my hand, which is pretty annoying.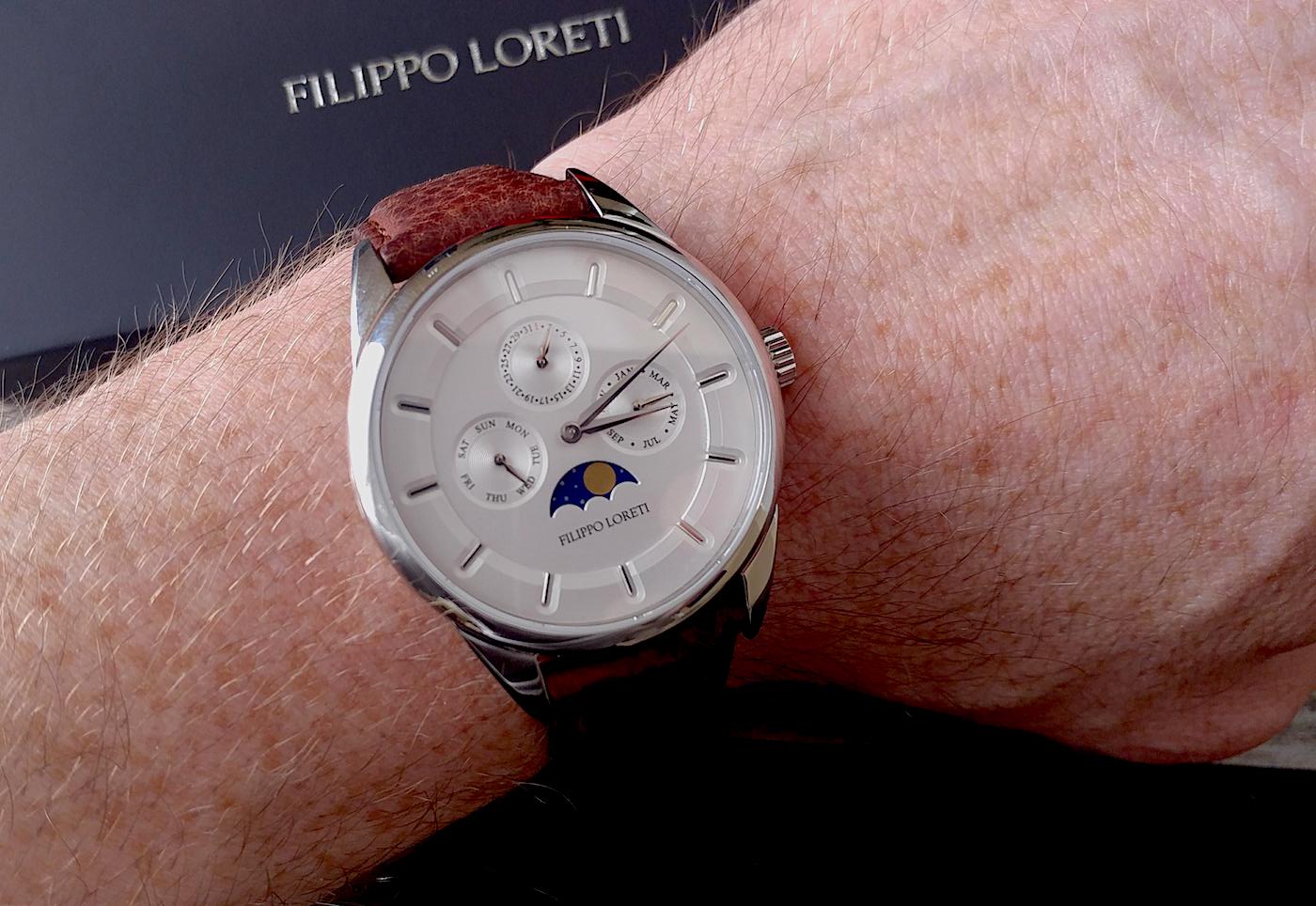 The Filippo Loreti Venice Moonphase is beautifully designed with just the right amount of curve. It also happens to be thin enough to have the adjustment knob set below the bottom plane of the case, so it spends the day rubbing the back of my hand/wrist. If they made the case 2.5mm thicker and moved the knob up from that back curve, it might reduce the about of wear on my skin. Or your skin.
Other than that little gripe, I love this watch. It's been my go-to watch for the last three weeks, and I've gotten compliments on it every time it catches someone's eyes. And it does it every time.
I highly recommend Filippo Loreti as your next watch. And for those that like luxury without breaking the bank, I recommend them for your first watch. They offer the best blend of all the luxury elements you want, at a price that can be your little secret.
Look at the Filippo Loreti Venice Moonphase on their site today.
---
UPDATE – The Whole Truth:  We're getting hosed.
I am truly sorry to have promoted a product and sacrificed my integrity with what I thought was an authentic watch. It is good looking and it wears well. For that, I still think it's a good watch to buy. However, there's a secret to which so many of us fall victim:  these are simply rebranded Chinese watches sold at 3000% markup by social media influencers.
Enter: Cadima Watches, sold on Alibaba.
Sure, you might still want this watch. I do to. It's a great timepiece. But rather than pay a team of liars and marketers an inflated price ($150+), just get it from the source for $35.
Thank you to my commenters that found the original watch and forced me to go down a rabbit hole. Turns out, dozens of watch companies are doing this. From now on, search Alibaba for the watches (search features and colors) you're interested in to see if that $400 timepiece is really just a $28 Chinese special.
I feel ashamed, but I'm not going to delete this post because it's getting a lot of traffic. Hopefully this helps clear things up for more people!
Do YOU have a Filippo Loreti Timepiece? What do you think? Share in the comments below so we can connect!