Gentleman's Kitchen: Perfect Steak & Mushrooms
Cooking the perfect steak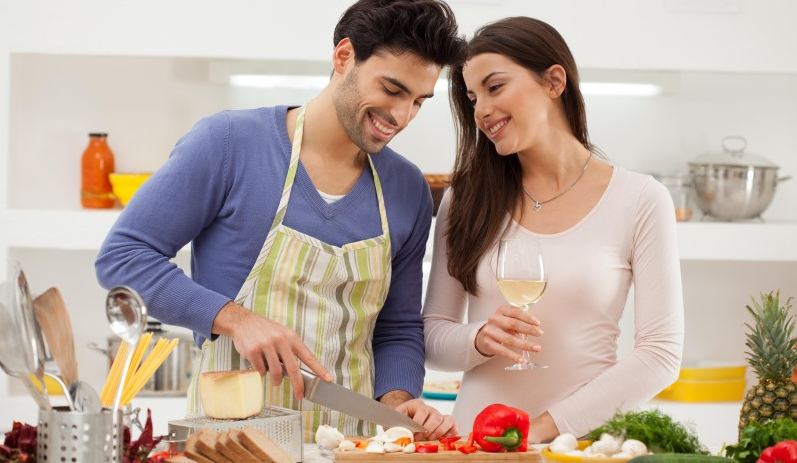 It's no secret that a man who cooks is measurably more attractive in the eyes of those around him. Maybe it's the way he has a command of the kitchen, or how he makes it look effortless, or maybe it's because he brings a tear to your eye with how delicious his food truly is. There are a million reasons why this is, but the important thing to take away is you want to be the attractive man in the kitchen.
The Sharp Gentleman believes every man can cook once he's either motivated enough or given the proper time, space, and recipe to get comfortable. With that in mind, I invite you into The Gentleman's Kitchen – a new series of recipes and best-practices to help you step up your cooking game. I love to cook, and especially love elaborate concoctions that involve a counter full of fresh ingredients. Not everyone shares the same love for difficult dishes and recipes, however, so we'll explore recipes that create BIG taste with small steps.
Perfect Steak with Outback Mushrooms & Onions
Every man in America is familiar with the sautéed mushrooms they offer as a side dish at Outback Steakhouse. These are sinfully delicious and can make a boring steak come alive with character. These little guys are easy to make at home, and when paired with caramelized onions, are a must-have with any steak.
Mushrooms & Onions
10 1/2 oz. can of beef broth
1/2 cup onion, diced (white or yellow)
1/3 cup Burgundy wine (Pinot Noir)
2x 8 oz. cans of small whole mushrooms OR
1 large package of fresh small mushrooms
** if using fresh mushrooms, you'll also need butter **
Because you want to do things in order, you want to start the mushrooms and onions first. If you're using fresh mushrooms, rinse them if necessary and place in a saucepan with a tablespoon of butter over medium heat. Toss them around and let them get softer and brown. While they're cooking, dice up half a large onion. After the mushrooms have a little color (about 5 minutes or so), go to the next step. If you're using canned mushrooms, skip right to this step and put the onion and beef broth into the sauce pan and simmer for 15 minutes. They'll get soft and sweet. Add one can of mushrooms (drained) to the saucepan, and then add the second can (don't drain it). Add the wine and simmer on medium-low for another 15 minutes. Feel free to drink the Pinot while cooking (it will probably make you a better cook anyway).
Once you throw in the wine, move onto the steaks.
Here are a couple quick notes about grilling steaks: Brining and resting are your two best-buds; buy a better cut of meat to avoid tough steaks and keep flavor; and this is my personal recipe and opinion. There are thousands of steak recipes out there, so if you feel like there's another way, please share in the comments. I'm always open to new recipes and prep-tips.
Brining is the first step to a great steak. Get your NY Strip (personal favorite) steak and let it sit on the counter for 10-15 minutes while your grill warms up to very hot. Season both sides of the steak liberally with Kosher or sea salt and cracked pepper only – and not the salt and pepper in the $.99 shakers you got from Target. Get some real salt and pepper shakers for your kitchen. You deserve it.
The 15 minutes of sitting with salt and pepper allows the meat to tenderize and relax. Some recipes call for meat to sit in a salt and water mix for an hour, but this isn't one of them. 15 minutes at room temperature with plenty of salt and pepper will work.
Now, we sear those bad-boys.
You may want to oil your grill beforehand by spraying olive oil on a rag and using tongs to glide across the grill to prevent sticking. Personally, I like to, but don't always remember this step. Either way, place the steaks on the piping hot grill and cook UNCOVERED for 2-3 minutes each side. Don't mess with them. Flip them only once.
DO NOT cook the steaks on high heat the entire time or you'll charbroil the outside before the inside has had a chance to really get up to speed. Once you've done both sides for 2-3 minutes each, turn the heat down to medium (if gas), or move the steaks into the indirect heat side (charcoal) of your grill, and close the lid. Cook another 5 minutes and check the temperature:
• Rare: 120-125°
• Med-Rare: 130-135°
• Medium: 140-145°
• Medium-Well: 150-155°
• Well Done: 160°+
Let those babies rest
Take the steaks off the grill and bring them back in and cover. Resist the urge to cut into it to check the color. Cover with foil or a lid of some kind and don't touch them for 5 minutes. The juices are redistributing and you want to let them do that in peace, don't you. Yes, you do.
At this time, the mushrooms and onions are perfect, the steaks have rested, and you and your date are finishing up your first glass of the leftover Pinot. Good for you! Place a steak on each plate, lay the mushrooms and onions over the meat and add a side of your choice. You can't go wrong with roasted red potatoes. There's a simple-as-hell recipe right here. If you're looking for an even easier side, go to the grocery store deli counter and grab a container of your favorite side. You can also just grab a steamable bag of vegetables and toss them in the microwave – hey, we're allowed to cut corners occasionally, right?
Bon Appétit!
BONUS: How to salvage a steak you accidentally overcooked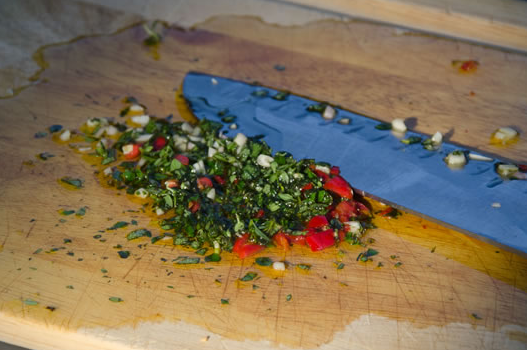 Your saving grace on a steak you've overcooked is called a "
board sauce
." It's essentially fresh herbs and spice in oil that you chop and mix on your cutting board, and then place the meat to rest directly on top and cover. You want to slice the meat on the board after it's done resting. Let the oil, spices, and herbs mix with the meat, and then serve. It's saved me a time or two.
6 Tbsp quality EVOO (extra virgin olive oil)
2 medium cloves of garlic, minced
1 Tbsp. sage or 5 fresh sage leaves (no stems)
2 Tbsp. fresh Thyme leaves (no stems)
1/4 tsp. ground black pepper
1 large roasted red pepper, diced (I keep a jar in my fridge always)
Mix the oil, herbs, spices, garlic, and pepper (if you have it) in a small bowl
Toss thoroughly and let sit for 10+ minutes
Dump on cutting board and chop everything up into small bits
Place steaks on top of the mix and cover (if the meat is still hot)
After a few minutes, slice the meat and mix with the sauce you created
Serve and enjoy!
What are your thoughts? Do you have a favorite go-to recipe for when you want to wow some tastebuds? Share in the comments!