Podcast: Your Best Holiday Party Etiquette
Episode 1: Make an Impression with Holiday Party Etiquette
It's that time of year again, where companies cut loose and hold holiday parties to reward their employees for jobs well done, and to celebrate the season. Many men find themselves making mistakes and leaving a poor taste in their wake. This is an opportunity to step up your game, gentlemen, and I have 5 easy ways you can take it to the next level this holiday season.
Take your style and confidence to a new level and hit the company party like a true modern gentleman. Leave some feedback on iTunes and let me know what you think! Subscribe Here
Show Notes
Today's show is about introducing new concepts (including this podcast!) including holiday party etiquette, and re-inventing yourself. I want to give it to you straight, my friends, so I waste no time in telling you what happens if you aren't paying attention to your manners. You run the risk of being a tool, and we all know you don't want to be that guy. This podcast will talk a little about that, but more importantly, how you can use the holiday party as an opportunity to step up and step out into a new, more polished version of yourself.
If you don't like listening to podcasts, here are the five easy ways you can make a great impression at the next holiday party. Remember, your office is giving you permission to drink on the job, sort of. Act accordingly. Let's explore the best ways to be remembered for all the right reasons.
Dress Appropriately – i.e. Like You Give a Damn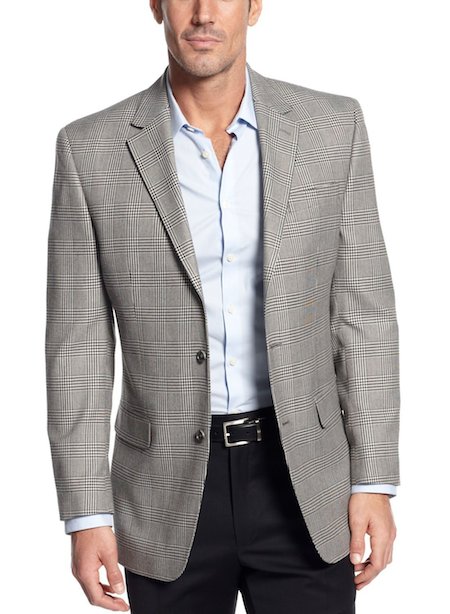 You want to dress for success that night. Step up your game and get two things knocked out of the park: your fit, and your grooming. Seriously, this will make such a huge difference in the way you look and feel about yourself, and more importantly, how other people receive you. You'll leave a much better lasting impression if you clean up like you're going out on a date with Margot Robbie (click).
My best advice here is to use this as an opportunity to change the game and surprise everything with how great you look when you actually put effort into it. Go get a haircut before the event. Groom that beard to perfection, or shave clean. And, above all else, wear something that fits your body and the occasion. Measure your chest (fabric tape under your armpits, arms down, widest place across your pecs), and then get a jacket in that size – preferably in a slim cut. American slim fit is a tailored European cut, so it should fit beautifully, and not actually be skinny. If you can't afford to pick up a pricey jacket, you can hit up a resale shop and see what options you have. Plan ahead, and pick up something like a navy sport coat earlier on because it's versatile with both slacks and a nice pair of jeans.
Drink Less Than You Think
This should go without saying, but let me say it anyway: Drink. Less. Than. You. Think. You do not want to find yourself saying and doing things you really didn't intend to have your work family / coworkers see. You would much rather be social and friendly and sober than social and loud and wasted. Because the latter usually makes you embarrassed and shunned and probably unemployed.
A good rule of thumb is to keep yourself restricted to one drink per hour. While this may sound like too little to really loosen up, you want to err on the side of caution here, Stud. The last thing you need is to follow rule #1 and show up looking great, but then blow it by drinking like a fish and waking up with a pink slip. Let someone else embarrass themselves – you are here to make a great impression. Social, not sloppy.
Put Your Phone Away
In today's atmosphere of instant social connection (read: addiction to facebook), it is all too easy to ignore the world around you and lose yourself in the glow of your smartphone. This is your chance, my friend. Put the phone away and talk to people. Be engaging and ask a lot of questions. It will immediately resonate with people. They'll remember how you paid attention to people and not your phone. Try saying hello and talking about how great this is to get to know people outside of the office because "it feels like all we talk about at work is work."
I know this doesn't work in all situations, but for the most part, it's a great icebreaker to open a dialogue with people. You can ask about what they do outside of work, what their ultimate goals are (are you working to buy a boat? a house? a boat house?), and who is on their current playlist – asking what music they're currently listening to often makes people talk about what they like and why.
Avoid these topics: Politics, religion, religion in politics, race, etc. Let the super strong opinions come from someone else. You're making a good impression, that means you'll spend most of your time asking about them instead of sharing about you. People love to talk about themselves, and when you give them that space, they remember you as such a good listener.
Manners Mean Everything
These are not tough, but all too often are blatantly disregarded. Mind your manners, damn it. Let's cover the few main rules to making a better impression at a party (certainly one with food and drink served):
Don't chew with your mouth open. Seriously, are you 5 years old? Close your mouth.
Don't speak with food in your mouth. You will spit food if you do and everyone hates when others do this.
Don't interrupt people. Certainly don't be a one-upper and interrupt with a better story.
Do shake hands when entering a group or conversation and when leaving.
Do eat with a knife and fork, rather than your fingers if there's anything more than finger food being served.
Do chew gum after eating, but try to chew it during a trip to the restroom and spit it out before joining conversations again. Unless you coach a sport professionally, then it's okay. Chewing gum is written in the coaching manual.
Avoid Ravaging the Buffet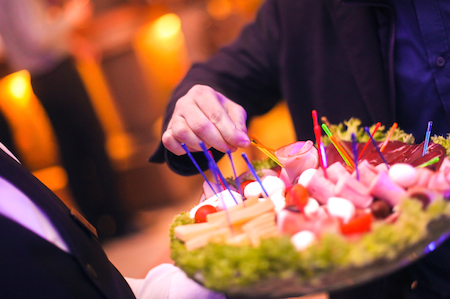 This is a big one for a lot of people, myself included. I have to keep reminding myself that those little shrimps and quiche things will be there all night, so relax. I like food, and I like to eat free, delicious food that's catered in. I don't know why, but I subconsciously prepare my body to not be hungry the entire day so I'm better equipped to absolutely destroy the hors d'oeuvres that evening. No Blake. No.
You want to eat, certainly, but don't hit the buffet table so hard the coach (that guy in the polo shirt chewing gum like his life depends on it) may blow a whistle and call a personal foul on you. You'll regret it for two main reasons:
You will almost always end up with unfriendly breath
You will end up with crumbs and/or greasy fingers and/or something in your teeth and/or all of the above
Pace yourself while you're there and do yourself a solid by eating a light dinner before arriving. This will make a huge difference. You'll have more time to converse and mingle with people, making sure you leave a lasting impression of character and class with them.
A quick tip: grab a couple of extra cocktail napkins, fold them once, and place them just inside the back pocket of your trousers. This is hopefully covered by your jacket / sport coat. When you're standing around conversing and enjoying that glass of (fill-in the blank), having a couple a spare napkins to wipe away crumbs from your mouth or hands, or condensation from your drink, is an excellent way to stay a step ahead. It's a minor tip, but a classy one.
---
This is my first podcast, and I'd love to get some feedback! Leave a review on itunes and let me know what you think! Subscribe and leave a comment below with what YOU would like to hear about next! I'm also going to be playing on Suburban Style Radio on Live365 soon. Whether you listen on that station, through iTunes, or Stitcher, definitely let me know what you think!
Do you have any holiday party etiquette tips of your own? What are YOUR cardinal rules
for holiday parties? Share them in the comments below so we can connect!