The Art of Layering
There's definitely a right way and a wrong way to layer when the weather cools off. It doesn't have to be something you lose sleep over, however. It really can be as simple as the right coat or sweater. It's never a bad idea to explore how to layer menswear, especially if it's something you struggle with. First off, let's get a couple of things straight:
Layering is simply combining clothing in a way that's both functional and fashionable
The sweater vest is unacceptable – this isn't 1995
Most men don't know much about layering, nor do they really care to learn. Hopefully this will help take some of the confusion out of the idea, and replace it with know-how. A little goes a long way, and a man equipped with some know-how can go pretty far, right?
So why should I layer?
Depending on where you call home, layering can often be a year-round activity. Cool mornings give way to warm afternoons that eventually settle into cool evenings again. Unless you're impervious to temperature changes, you're probably going to put something on when it cools off and take something off when the heat is on. Welcome to the fundamental law of layering. The function is clear – as long as it doesn't restrict your movement, it's good to go!
The second reason to layer is that it's fashionable. You can extend the versatility of your wardrobe by combining different pieces together. Everyone is tired of looking around and seeing guys wearing the tried and true button-up or polo and jeans or slacks. Look, it's a great look but there are a lot more options that just those two together. You can step up your style game and get ahead of the curve with just a sweater, vest, cardigan, henley, or blazer.
You can play with color combinations as well, so that black sweater over your blue button-up will work just as well (perhaps even better) as over the bright white one. You can throw a cardigan over a shirt and tie and give it an almost three-piece look with a pair of slacks and jacket. Scarves play a role too, but that's another post altogether.
How to layer like a pro
There are a few tips that make all the difference when it comes to layering. You don't want to look like you're trying too hard, but you also don't want to be too haphazardly put together. Let's take a look at some great examples of good and not-so-good layering ensembles. These will help clear up confusion, and set you on the path of layering mastery.
1. Everything should fit correctly.
This is important… vitally. Back in the early 90s, it was fashionable (I still don't know why) to have sweaters, flannel button ups, and jackets that were two or more sizes too big. The "swimming in it" look is not acceptable today. When you look at layering, make sure that the outermost layer fits correctly, and adjust your inner layers to work with it. If you have a poorly fitted dress shirt under a well-fitting sweater, you'll see excess fabric bunched up under it. If you then try to throw a sport coat over that, you'll only make it worse.
The innermost layer should fit snug to the body (your undershirt), and the very next layer should be fitted as well. This allows your next layer to keep the silhouette of your body clean, and eliminate that frumpy dad look.
2. Each layered item must work on its own too.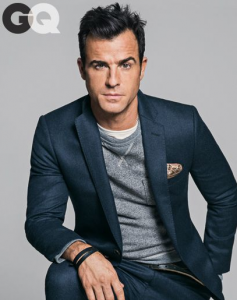 This, with the exception of scarves, is an easy one to follow. That blue sweater can be worn on its own, or over a dress shirt, or under a jacket, or – you get my point. Women like to wear half shawl cardigans and chiffon sweaters that really only work as an outer layer. Men wearing cardigans also need to follow this rule. This, like scarves, breaks the standalone rule. You make layering look easy and effortless when you can pair pieces together that can stand on their own. This is why a button up with a sweater works so well – you can take the sweater off and still look dapper.
3. Outer hem must be longer than inner hem.
With a few exceptions, this essentially means, tuck your shirt in. When you have the tails of your dress shirt sticking out the bottom of your sweater or henley or other outer layer, it may not necessarily make you look worse, but it will certainly make you look uninformed. Most of the time you'll see this look in younger generations – high school college, early 20s.
A great example that men often overlook is the vest. Man, I love a good vest or waistcoat. What I continue to see, however, is a waistcoat that doesn't cover the belt completely. If it doesn't cover the belt (your waist), it's not the right size, and it's not a well-fitted waistcoat. When I first started wearing vests and learning the sartorial rules, I couldn't understand why one never buttons the bottom button on a vest. Now, I understand that the bottom button covers the belt buckle, so leaving it open allows for a little flash and mobility. If your vest is too short, unbuttoning the last button only reveals more shirt, and more evidence that you're in the wrong size. Look for a sweater, vest, henley, or jacket that's longer, not necessarily larger, and you'll always win.
 4. Don't overdue it with patterns or colors.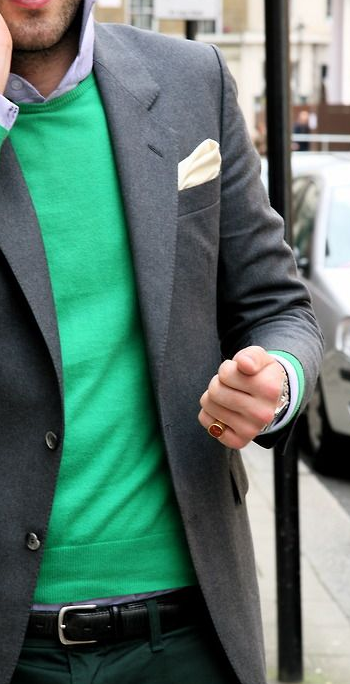 This shouldn't have to be said, but denim over denim with denim jeans is a recipe for disaster. Denim jeans with a denim shirt is almost always a mistake, but adding a denim jacket over it is simply asking for trouble… and not the good kind of trouble.
When it comes to color, choose one or two colors to play with in your outfit and let the other pieces take a back seat. If you show up with bright red chinos and a lime green argyle sweater over a teal gingham button-up and orange tie, we have no choice but to think two things:
you  must be colorblind
you're trying too hard to stand out
If you're rockin' a really great pair of red chinos, let them do the talking and keep the other colors muted. Color blocking is a great way to enhance a your getup, but taken too far, it can be distracting. Sometimes a great trick to add a bold color or pattern is with a colored belt. Allow that to cut the vertical line, and give your waistline some pop.
Hopefully this helped you understand how to layer menswear. So what's your favorite layered look? Do you have a go-to look that you like best?