5 Tips for Better Business Casual Style
Business Casual Style – is that an oxymoron?
In a past life, I was a cubic-jockey in the business casual hell of Corporate America. Since escaping, I've been helping gentlemen discover their own style inside a system that promotes a level of dress just above blatant laziness – especially in men. Provided you don't wear jeans and your shirt has a collar, you can pretty much get away with anything, right?
No. That's not right at all.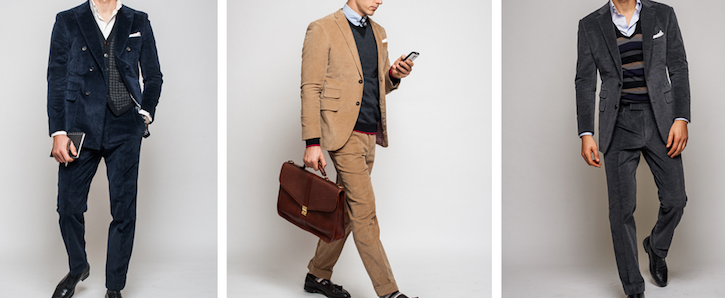 You want to make an effort to look better than the rest of the crowd. You want to look like you're in command of what you do and your decisions. You want to feel like the boss, because it will make you perform better, communicate better, and altogether, become a better version of yourself. This is why you want to pay attention to your style at work. Follow a few simple rules, and you'll always be a step ahead of the business casual mistakes.
1. Always tuck in your shirt. Some men can get away with an untucked polo or button-up at the office, but it's more often the opposite: they think they can pull it off, but in fact, they can't. Don't be that guy. Button-up dress shirts are to be tucked in 90% of the time. If you're unsure, tuck it. The hardest part of this advice is knowing that polos don't need to be tucked in, and weren't even designed to be. The only reason this rule applies here is to prevent you from looking like a schlep at the office. After all, it is business casual.
2. Have a variety of pant styles and colors. Wear more than just that one pair of khakis, Larry. Seriously, Gap pants don't even fit well, and at any given time, someone in the office is going to look like they work at Target. Make sure it isn't you. Give them a rest and pick up a pair of tailored trousers in navy, charcoal, and light grey to start. Navy and grey trousers go with nearly everything you might own, and they give you more confidence in your wardrobe. I invite you to explore trousers without pleats or cuffs as well. Pleats are dated (although they seem to coming back into style again), and removing the cuff at the ankles provides a cleaner look. On a related note, get your trousers hemmed so they don't pool at your ankles. You're a man – don't give the impression you're a boy in your dad's pants. Make them fit you.
[bctt tweet="You're a man – don't give the impression you're a boy in your dad's pants. Make them fit you."]
3. Keep your belts in good shape. One black and one brown are required, but more importantly, keep them in good shape. When they begin to wear out or the hole shows signs of splitting or fraying, it's time to replace them. You may think a reversible black and brown belt is the way to go, but I advise against it. When you wear it one way, the belt forms the shape of your waist in that direction. When you reverse it, you are asking the belt to flex the opposite direction and not put up a fight. It seldom works out that way. The excess belt will stick straight out when reversed, and it will look like it doesn't fit you. Also, no braided leather belts…ever. Those days are over. You deserve a clean, solid leather belt.
4. Keep your mane in check, Stallion. Just because your office environment is pretty chill, does not mean you are welcome to roll out of bed, put on pants, and head to work. Basic grooming is required. Even though you may never be seen by customers, you are still a representation of your personal brand and the reputation of your company. If you owned the company, you'd want your employees to look like they cared about their appearance because it would show pride in themselves and hopefully, pride in their job (working for you). Brush your hair, your teeth, and even your beard. Look like you care so you get noticed for the right reasons, instead of the guy that needs a shower and a comb.
[bctt tweet="Even when not in front of your customers, grooming still reflects your brand. Look sharp. #lifeadvice"]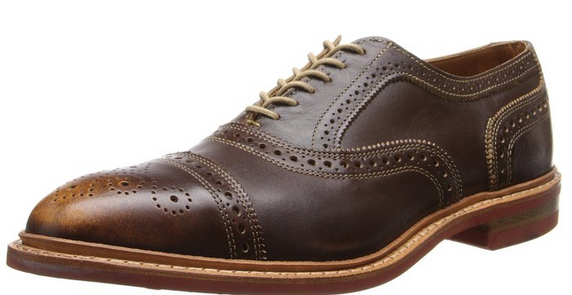 5. Invest in quality shoes. A pair of brogues from Allen Edmond are classy, comfortable, and radiate confidence in an environment that likes $29 slip-ons from Target. (I'm not ragging on Target, I promise. I'm actually a big fan.) Craftsmanship goes a long way, and you'll notice the difference immediately. Quality shoes are an investment, rather than an expense, because you'll have them for years. Gentlemen often have their shoes resoled instead of purchasing a new pair. That loyalty speaks volumes to quality and comfort.
When you take care of your belt, your shoes, and your fit, everything comes together naturally. When it does, you'll feel better, perform better, appear more attractive, actually be more attractive, and command the attention of those that matter. You'll also find it more fun to be at work because you're dressed like you mean it.
Business casual doesn't have to mean sloppy. It was never intended to be. That said, it has almost certainly become that way in many offices the world over. Consider this, however, your invitation to buck the system and rise above. Look sharp because you can. Dress for success and it will be yours. Clichés be damned.
What's your best advice for looking good in corporate business casual environments? What's your style? Share in the comments below!