How To: The Best Drink to Bring to a Party
There is often a misconception when it comes to bringing alcohol to different social gatherings. What's the best drink to bring to a party? Should bring anything at all? Beer or wine? Both? Food as well? It's all a lot to keep balanced!
As discussed in a previous post, you definitely want to bring a gift to the host of whatever social gathering you're attending. This gift is most often an alcoholic item, but depending on the event, it can also extend to food dishes and/or flowers. To help make the selection process easier, let's review the six different social gatherings you may encounter and beverage options for each.
The BBQ
In the Summer months, barbecues seem to happen every weekend all over the world. Who can argue with grilled food, ice-cold beer, and warm summer nights on the patio with friends? Most will bring a pretty standard beverage, but I invite you to check out some more crafty affairs for your next backyard get-together.
1. Rich and Floral Pale Ale (like Ballast Point Pale Ale or Sculpin)
Far too many coolers across America are filled with high-volume domestic swill like Bud and Miller Light. That's certainly not the best drink to bring to a party. If that wasn't bad enough, somewhere in the mid-2000s, hipsters took over the scene and decided that PBR was cool again. I guess those unkempt beards and skinny jeans have altered tastebuds to the point that PBR is classy. Yikes.
Change the game up with a beautifully layered Pale Ale. The trick is to find one that has flavor and a crisp finish without it being so hoppy that it blows your face off. You want to enjoy it, right? Look for a pale ale with an IBU rating of 30 or less. Ballast Point Brewery has a Pale Ale with a crisp finish and easy-to-enjoy flavor that's perfect for Summer. The Sculpin adds the pop of grapefruit to the pale ale mix.
2. Cream Ale (Full Sail Session series Cream Ale)
Available in the iconic 11-ounce stubby bottle, the Full Sail Session Cream Ale makes for an amazing party guest. With a beautiful pour and golden head, it features a malty sweetness and long-lasting slightly bitter finish. It keeps it crisp and fresh, just like you, Stud.
Cocktail Party
When you're attending a cocktail event, your dress is above business casual, but not quite formal. This is a perfect opportunity to enjoy a drink that's above casual, but below black tie. Bourbon and whiskey are the two best choices for most gentlemen. Walking in with a bottle of Johnnie Walker Black is a smart move. I'm also a fan of Maker's Mark.
In the Bourbon category, I highly recommend Bulleit 10 year. It's light on the tongue and mixes very well in cocktails like an old-fashioned. The trick is to make sure you bring an alcohol that can be mixed into something for lighter tastes or kept neat for the full-man effect. Whatever you choose to bring, a good rule of thumb is to select something that can be enjoyed in a lowball glass. Domestic beer bottles at cocktail parties are like Crocs at the… well, anywhere. People do it, but it's really not a good look, right?
Dinner Party
One of the most popular questions I get asked is about what to wear and the best drink to bring to a party. The wardrobe is a topic for a different day, but the alcohol choice is actually pretty simple. In my summer party post I gave a few details on how to attend like a gent, including what to bring.
The best beverage option here is wine. While you want to please the guests and host, the preference is really yours to decide. If you like white, bring a bottle of Chardonnay or Pinot Gris. Make sure you have the white chilled before you arrive so there's no need to have it sit on ice before serving.
If you prefer red, the absolute best choice is a Napa Cab. A Cabernet Sauvignon from Napa Valley, California is as American as apple pie since American winemakers in Cali beat the French in blind taste tests in the 1970s. Breaking the winning streak for Bordeaux wines is the American Underdog story we still love today. Sterling Vineyards 2012 Cabernet can be had for around $20 a bottle, which is great for your guests and your wallet.
[bctt tweet="A Cabernet Sauvignon from Napa Valley is as American as apple pie, and always a good decision." url="http://bit.ly/SharpDrinks"]
If you like a little sweeter red, opt for the Merlot or red blends like 14 Hands Hot to Trot 2012 because it gives the full flavor and spice of a bold red, but an easier finish than a Cab. You can get the 14 Hands at Trader Joe's for as little as $9 too!
Meeting Her Parents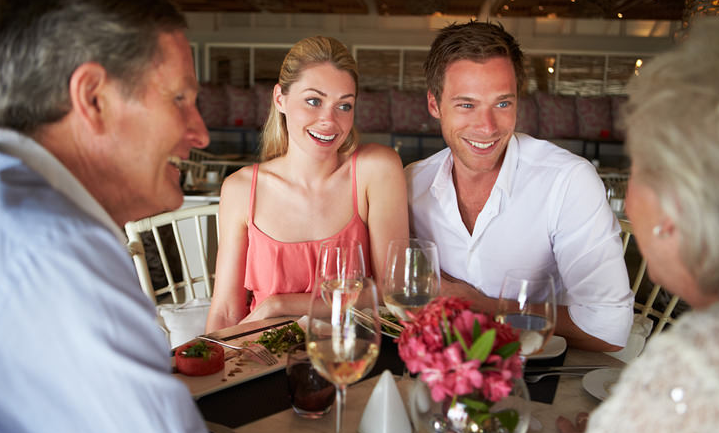 When meeting her parents for the first time, always bring a bottle with you. Well, there's one exception: teetotalers (they do not drink). If this is the case, bring flowers for mom as a token of appreciation for being invited over. This is also on the assumption that you're being invited to the house for dinner. If your first meeting is in a restaurant, the same rules apply, but the bottle you bring should be in an appropriate gift bag.
Find out what her parents like in the liquor category. I dated a girl in college whose father loved different kinds of vodka, so I showed up with a bottle of chilled Chardonnay for dinner and a bottle of Tito's Handmade Vodka for him. This was back in the 2000s and Tito's had just arrived on the scene. It was a great gesture that showed him I was more than just some boy from school.
When you select a wine or spirit, make sure you choose one in an acceptable price range. The reason I mention this is that you're not here to impress outside of your pay grade. If you're middle management and you show up with CEO grade Cabernet ($250+ a bottle), you will set the precedent that you're either sucking up, or worse, you're a fraud. Avoid both by selecting a bottle at a comfortable budget – many amazing wines can be had between $20–$50.
Invite from the Boss
Should you get the "come to my house for dinner" invitation from your boss, and it's not in a late-night Cinemax type of way, you certainly want to bring a gift. This is actually the same situation as meeting your girlfriend's parents. Bring a bottle for dinner and/or something for the boss. Again, don't select a bottle outside your budget because it can reflect poorly, especially to the person that pays your salary.
Celebration (of any kind)
Champagne or Sparkling wine. Without question. The challenge comes when you start to look at all the different celebratory events you attend throughout the year: birthdays, promotions, new babies, new nuptials, new jobs, new homes etc. For many of these, we don't think to bring a bottle of bubbly. You should.
When you show up at an event celebrating some milestone, you miss a great opportunity when you bring a sixer of local beer and nothing else. People need to celebrate more, and you can be the man to make it happen by providing a chilled bottle of Prosecco or Asti for less than $15. Who wants to propose a toast with a can of beer? Not you. You want to raise a glass fizzing and ready when you give your toast, right? Of course you do.
Champagne is always acceptable but many people don't like the dry finish of a Brut, which makes a sparkling wine like Martini & Rossi Asti Spumante a better choice for almost everyone. So remember, the next time you're invited to a gathering to celebrate some milestone, gift appropriately with a bottle of bubbly. Nobody has ever turned down a well-dressed man with bubbly in his hands when he shows up to a party.
There are, of course, other occasions where drinks are necessary, but these few categories here will help make sense of the others as well. If you find yourself in a social drinking situation that's confusing, opt for the closest drink in your wheelhouse. If you have to endure an uncomfortable event, it's better to do it with a drink you're used to (or at least something similar).
[bctt tweet="Don't miss an opportunity to enjoy more champagne in your life. Bubbly makes everything better." url="http://bit.ly/SharpDrinks"]
What's YOUR favorite drink to bring to social gatherings? Do you have a set of go-to selections for each?
Share in the comments below so we can connect.