The Gentleman's Guide to Men's Shoe Styles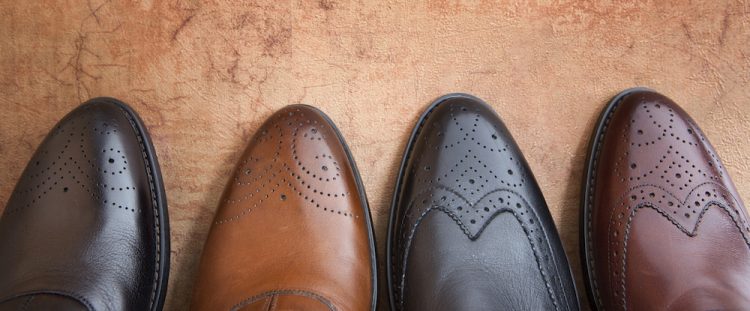 The age old cliché about women having shoe fetishes is not without its own truth, but it's not relegated to only women. Men have some serious options when it comes to footwear, and even more surprising (for many men) is how exacting the design and detail is between each.
For many men, the entire selection process is all too confusing with the litany of different styles and "proper" names. For example, what is a brogue? What's an Oxford? Is it different from a Derby? How is it different?
Will you even notice a difference?
To help you make your selection process easier, and to help understand some of the fashion rules surrounding footwear, I found a beautiful and simple infographic from Dappered.com to illustrate what you need to know. It uses Allen Edmonds, arguably one of the best shoe manufacturers in America, as the example. Hopefully this, along with more explanation below, will act as your guide to men's shoe styles.
It goes without saying, but I'll say it anyway: men's shoe styles can be confusing. Some men will refer to the shoes by their design: cap-toe vs. wingtip. Let's run through a quick summary of the five styles you are most likely to see and hear in shoe conversation – in the off-chance that ever happens…
Brogue
Brogue is actually a term used to refer to a leather shoe with decorative perforations. Broguing often refers to the perforations themselves. – The broguing on this wingtip is beautiful. Any shoe with the perforations is a style of brogue. Outside of this definition, there are different names for the designs: cap toe (a leather cap over the toe box with broguing across it), Derby/Blücher (interchangeable with Brogue name, sometimes completely lacking perforations), Wingtip, and Spectator (see below).
Oxford
This might have been confusing to discern from the infographic above, but Oxfords are named so for their closure, rather than anything else. Brogues (and every other style) close with the lacing eyelets on an exterior piece of leather, while the Oxfords close internally. Essentially, brogues have a flap and oxfords do not. Check out the graphic to the right.
Wingtip
One of the most popular men's shoe styles is the wingtip. It can be an oxford or brogue (depending on the lacing – but you knew that by now, didn't you?). The decorative broguing carries across the toe box, includes an apex point in the center, and carries along the sides of the shoe like wings. There are two additional styles: wingtips ("wing" stitching ends around mid-sole) and longwing (the cap and broguing carries all the way around the heel).
Spectator
This is a style that includes two contrasting colored fabrics. I say fabrics, rather than leathers, because some popular spectators are made with leather and suede. These shoes are most often black and white or brown and white. They can be any style of cut including brogue, oxford, captoe, wingtip, and even (rare) monkstrap.
Monkstrap
Another style growing in popularity is the monkstrap. This style replaces the laces with a leather strap that folds over the shoe and buckles. A variation is the double monkstrap, which includes two buckles instead of one. This is one of my favorites.
I hope this guide to men's shoe styles helped shed some light on an often confusing topic. The honest truth is that there are a lot of great styles out there, and when you find one that's comfortable and fits your style, you stick to it. Once you find that shoe, then you can learn what style it is. There's no need to know everything about shoes… just enough to know what you like and what you don't.
What's your favorite style to wear, and which do you prefer for formal and casual events? 
Leave a comment below so we can connect!