The Secret to a Perfectly Folded Pocket Square
Even though there are dozens of resources out there to help you fold a perfect pocket square (including my own), there's now a secret weapon you can carry in your arsenal: The Perfectly Pre-Folded Pocket Square from Well Suited NYC.
Based in Manhattan, Well Suited NYC is the brainchild of two native New York City friends, Amanda Sanders and Christina Wilson. Amanda is a celebrity stylist (with a clientele that includes Chris Rock), and Christina developed a fashion handbag and accessories company, and the pair found strength when they combined forces.
Amanda found a demand in more casual environments where men no longer wanted ties, but they needed an accessory to dress up their suits. Most men feeling intimidated at folding a traditional pocket square, felt much more comfortable with her making pre-folded squares for them.
Merging together Amanda's styling experience and Christina's expertise in product development, the perfect "Ready-to-Wear" pocket square was born. True to its inspiration, Well Suited pocket squares are carefully handmade in New York City.
She sent me a beautifully made four-point square to put through my own personal gauntlet of outfits. And, a few days later, Christina and I had a chance to get together and discuss the vision and passion behind their perfect pocket accessory.
It was clear from the moment we began exploring, Christina is focused on taking accessories to the next level. She will be the first to tell you about the quality of the fabric, the patterns and textures, and how the folds are carefully created and fused so you, as the client, never have to worry about it once it's in your pocket.
More than just a square, her pre-folded accessory is actually a bridge.
"We see a lot of guys not wearing ties as often, but still hungry to stand out. They want a slight edge, but they're also not willing to compromise themselves by venturing too far outside their comfort zone. With our squares, we help bridge the gap and give them something they can use to instantly upgrade their look without having to worry about assembly or design – it's done for you!"
The squares are currently offered in two basic designs: the four point fold, and the straight fold. The four point can be a little more formal, but wears nicely as a casual piece as well. The straight fold is as timeless as it gets.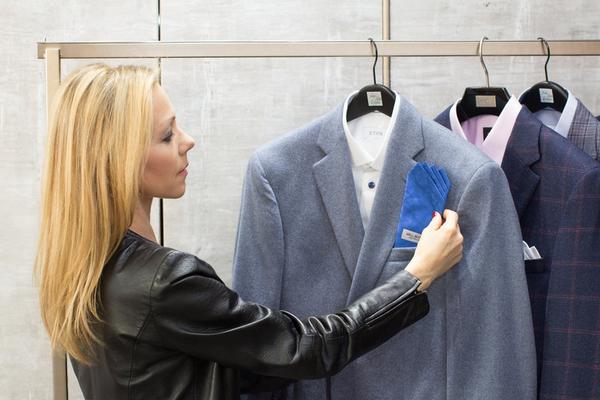 The squares are designed from 12×12 and 14×14 pieces of fabric, carefully folded into the correct shape, fused in place, and labeled. At a little over 6″ tall and 3.75″ wide (basically a smart phone), they are sized to fit 90% of suit and sport coats on the market today, and Christina tells me there are future plans to possibly offer two lengths (depths) so you can get that perfect fit without worry.
There are two things I really love about this square, and it's the same feedback Christina says she receives all the time:
The fabric is high quality and folded perfectly to fit
The square lays flat in the pocket – no bunching up in the breast pocket area of the jacket
It's truly a "grab-n-go" accessory because I can grab it, drop it in my pocket, and walk out the door. The peaks sit where they should, the square sits flat so there aren't any lumps or bumps in the jacket, and I don't have to worry about it slipping too far down into the pocket and disappearing.
Well Suited NYC launched in the summer of 2017, and are quickly becoming a contender in the marketplace. They've been written up in the NY Post, and SWAAY, and are on their way to even more exposure!
You can get your own perfectly pre-folded pocket square from Well Suited NYC right here. And I suggest you do! I love mine!
Connect with WSNYC: Well Suited Facebook | Well Suited Twitter | Well Suited Instagram | Well Suited Shop