The Rise of Fall, 2014

Autumn, as discussed in a previous post, is one of the best times of the year for romance, and fashion. As the leaves change and weather cools, beautiful new patterns emerge in nature and in the best fall menswear styles. Sometimes there's nothing better than a hot apple cider with friends on a chilly Autumn day – especially if you're sharp and toasty in the effortlessly beautiful Loro Piana overcoat. Then again, you'll enjoy just about everything Autumn has to offer when you're properly dressed. J. Hilburn has a Fall offering that can't be missed.
This year's collection is a cut above everything we've done so far, and it shows. Not only do we have our signature blend of high-quality Italian fabrics, classic styles, and custom and ready-to-wear options, but this year we took the fit and finish a step further. We dove deeper into texture and style than ever before to bring out the very best looks, fabrics, and finishes for your Autumn ensembles.
Check these out…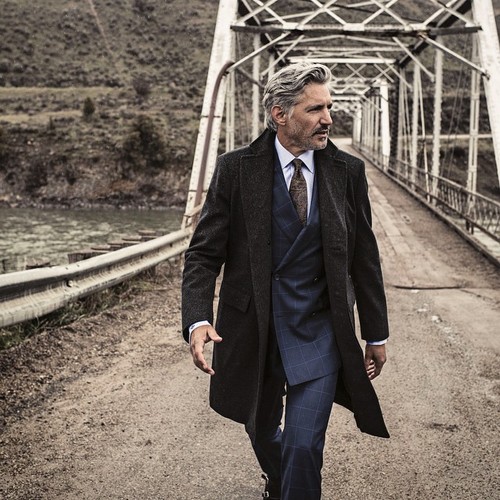 Needing no real introduction, the Loro Piana Northeastern Overcoat is absolutely stunning. If you've ever had to cover up a fitted jacket, shirt, or sweater with an oversized puffy winter coat, you know how valuable a tailored overcoat can be. Now you don't need to sacrifice your style with a poorly fitting or oversized coat. In fact, with this Northeastern Overcoat (made with Loro Piana's patented Storm System fabric), you can enhance your style, and stay protected from the elements.
On top of the amazing selection of core fabrics we have available year-round for our custom dress shirts, we've added a series of fall-inspired checked fabrics. Colors and patterns like berry, sage, brown, grey, charcoal, and more. These shirts not only look fantastic, but they also fit you like they were made for you – because they were. Custom-fit is exactly as it sounds – custom.
Click on the picture to discover more of the new Fall Shirting Collection for 2014. We have some absolutely beautiful selections to make your Autumn look better than ever.
When I think of Fall, I think of pumpkin spiced everything, cooler weather, and corduroy. J. Hilburn offers both made-to-measure trousers and personalized jackets in a wide selection of corduroy colors and styles. This Tobacco medium wale jacket is sure to make an impression. The Rich Red jacket, is guaranteed to start conversations wherever you find yourself.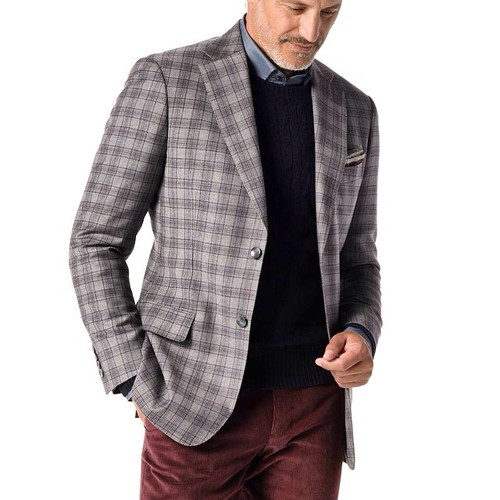 For the first time, we have released a line of Ready-to-Wear jackets. These are slightly more affordable, and still come in one inch chest sizes, are tailored to fit better than most of-the-rack options, and follow the same stringent craftsmanship standards you've come to expect from J. Hilburn. These are definitely Sharp Gentleman approved.
With Fall, also comes sweaters. Not just any sweaters, however; tailored cashmere sweaters. From crew neck cable knits, to light blended V-necks and half-zips, the sweaters for Fall 2014 are perfect to complete your sharp casual look. Pair one with our designer denim jeans and a belt, and you're ready to make a statement this season.
The best thing you can do for your confidence is to dress like you're in charge of your life. How you dress directly effects how you show up in the world. It's more than just expensive clothes – price is nothing if the fit is wrong. Style is nothing unless it's personal, remember?
Contact me today so we can sit down and put together some wonderful Fall looks for your wardrobe. Sometimes just one or two new additions cna make a world of difference.
If you're interested in becoming a Personal Stylist and helping men find their own personal fit and finish, I would very much like to hear from you.