Romantic Fall Date Ideas

When the leaves turn and that familiar chill comes in the air, you know Autumn is here. It's one of the most romantic times of the year, and offers plenty of opportunities to cozy up with that special someone to keep warm and enjoy pumpkin spice… everything. It provides the biggest bang for your buck when it comes to romance because Mother Nature cranks up the colors, turns down the heat, and provides beautiful opportunities to sport your favorite fall gear.
Check out these perfect romantic fall date ideas and excursions to help you kick the romance up with your honey.
Walk through the Autumn Arboretum
This has got to be one of my personal favorites on the list. The scene pictured below is in an arboretum in Chaska, Minnesota, and you can almost feel the leaves crunching under your feet, the cool breeze whispering in the air, and that familiar Autumn smell, can't you? Admission is usually free or very cheap, and you get to enjoy each other's company as you take in all that Fall foliage and wonder. Bonus points if you can bring in your own food and drink – mix up some spiced chai tea or Fall beverage of choice, and share a hot cup together.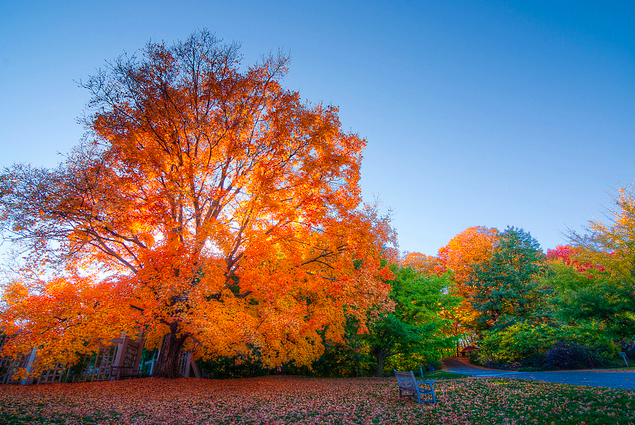 Savory Winery Tours
Another great way to share in the deliciousness that is Autumn is through wine. According to winos, one of the best times to visit wine country is during the fall months because they're harvesting the newest grapes. Most wineries and vineyards have gorgeous tasting rooms (some have an entire home dedicated to creating the perfect 'cozy' spot), and during brisk Fall days they'll have the fireplace going and sweet smells in the air. Touring the winery and sampling some of the season's best, all while enjoying the scenery with your sweetheart, is one of the best ways to spend an afternoon together.
Cook Together
"Fall is a playground for the taste buds. From sweet-cinnamony apples to spiced pumpkin to beef stew and potatoes, autumn is a wonderful time of year to get your eat on." – Chris Nesi, Primer Magazine
Autumn is the best season to spend time in the kitchen. With all the fun spices and recipes of the season, you're sure to find a dish you both love. What makes this date such a great romantic idea, begins when you go shopping together earlier in the day. Many local Farmers' Markets are open on Saturday mornings, and the spread of different foods and local items is often astonishing. You'll discover fresh fruits and veggies, and even pre-packaged foods and desserts to take home and enjoy. Throw on a light jacket and take your sweetheart to the market.
Go with a planned recipe in mind. This makes it easier to get everything you need before heading home. Nobody likes to get halfway through preparing a meal and realize you did, in fact, need that fresh rosemary. Have your list, get your ingredients, mingle with the locals and enjoy fresh Autumn samples together (they always have fresh samples, some of which can be sinfully delicious).  Find a market in your area, and get to work.
If you combine a winery tour with this date idea, you'll already have a beautiful bottle of wine to enjoy. Come home, pop the cork, turn on some music, and enjoy cooking together. Keep it light and fun, and you can't go wrong.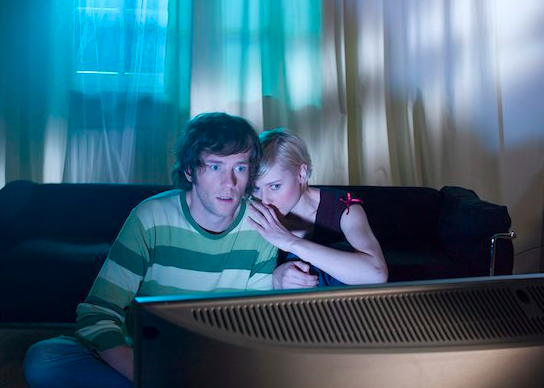 Get Spooked
With Fall, comes Halloween and all the ghouls, goblins, and ghost stories that come along with it. While a lot of it can be commercialized and silly, there's often nothing like a good scare to bring you closer together. Snuggling up after a scary movie, haunted house tour, or spooky evening is quintessentially Fall. So go ahead, turn out the lights, and throw on a scary movie. The original Exorcist is a classic scary tale. If you're looking for a well done modern ghost story, I suggest The Others.
Build a Bonfire
This doesn't have to be just a two-of-us kind of date. I invite you to bring some friend along. If you happen to have a fire pit in your backyard, invite your love and some friends over for the evening. If you don't have a fire pit, head to your local campground, forest preserve, or park (that have legal fire pits), and put those Boy Scout skills to the test. It's best to get things underway a little before sundown so you'll have light when building the perfect campfire, but you'll have darkness to really enjoy it shortly thereafter.
Make sure you have the necessary ingredients and skewers (or sticks) to make s'mores, because no matter how old you get, s'mores never lose their charm. The rest is up to you. Hot apple cider, cold beer, hot chocolate, red wine – decide what works for you and your guests and enjoy the time together trading campfire stories.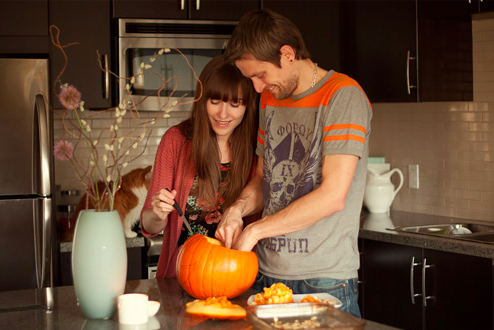 Carve Pumpkins Together
Let your creative sides come out and play. You don't have to be Rembrandt to carve a pumpkin, you just have to get your hands (and forearms, at least when I do it) a little dirty. Take your partner in crime out to a pumpkin patch or local farm, and pick up a pumpkin or two (and I highly recommend grabbing hot apple ciders while you're at it – it's the best at the farm). Get out some sharpies and draw the faces you want, or pick up a pattern book and choose your design, then it's time to get to work. Take your time, don't cut yourself, and let your artistic sides shine together. This date is messy and fun, just like love.
Go Tailgating
Fall signals a lot of things, and one of them is Football season. Even if sports really isn't your thing (or your lover's), you can still have a pretty grand time together. There's a totally different feel to football games when you are joined by hundreds (if not thousands) or other fans before the game, grilling, and hanging out in the parking lot. People are effortlessly friendly (unless you're rooting for the visiting team, so don't do that), and usually share some of what they're cooking with a few around them. You'll meet a lot of diverse people, and probably eat a lot of amazing home-cooked foods.
So put on your fall jackets and head to the game! Get warmed up with food and drinks before the game, and you'll be more than prepared to weather any storm, whether literal or metaphorical, the game might throw your way.
Fall doesn't just mean that summer's over – it means layered clothing, gorgeous foliage, and comfort foods. Take the opportunity to take Autumn by the horns and enjoy it for what it is: the most romantic season of the year. Take your dates to another level this season… you'll be glad you did.
Do you have a favorite Autumn adventure? Share it in the comments!